Klopp: It's a bad sign when a keeper is your best player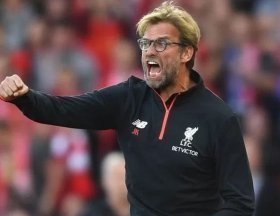 Liverpool manager

Jurgen Klopp

admitted that it was disappointing to lose the Champions League 1-0 to Napoli, after the game telling reporters that it is always a bad sign when the goalkeeper is the team's best player. Liverpool had few chances during the game and required keeper Alisson to be at his best.


Napoli's manager Carlo Ancelotti would have been happy with the performance of the Serie A side, ensuring that Liverpool have struggled to kick off their Champions League efforts this season in the best possible way.

"I'm not 100 per cent sure why [Liverpool were so poor], but it is clear that we were," Klopp told reporters.

"The timing for our defensive movements was not good enough, we didn't close the space in the right moment, we didn't react in the right situation, and so they could play through.

"We didn't create a lot of chances. The second half was not good enough. It's always a bad sign when you have to say your goalkeeper was your best player, but it was obvious tonight.

"A big part of that performance is my fault. I need one night to watch the game again, but it looked not like it should have looked."