Burnley star McNeil heading for exit door?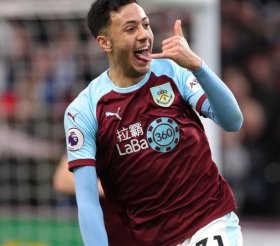 Burnley manager

Sean Dyche

has admitted that the sale of star midfielder

Dwight McNeil

looks increasingly likely, as the 20-year-old continues to churn out excellent form in the Premier League. McNeil was promoted to the club's first team in 2018, and has been linked with moves to Tottenham, Chelsea and Arsenal in recent months.


McNeil has been an almost ever present for Burnley this season, taking part in 29 Premier League games and scoring two goals and assisting five goals so far. His impressive form has caught the eye of several top teams, all of whom are ready to pay up to £25 million to sign the 20-year-old.

"There's a reality when players come in, particularly when we've developed them as lower-league players for less money or the likes of Dwight McNeil," Burnley manager Dyche quipped.

"At some point those players, not all of them, but some of them get to a point where the club will sell them. If a player does so, so well and enough big interest comes from the top of the market, the chances are at some point that situation breaks and that player goes.

"When that moment comes, I have to factor that in a little bit as well and say 'look, this is a chance for them to go and get whatever that may be and we can't compete with that'. The business comes first, of course, but there's also a bit of moral fibre there and we can't stop a player from having that opportunity.

"The numbers now in our world are high and we're in a position to say no, we don't need to sell anyone. So if anyone wants to come for any of our players, they had better have a war chest."