What's happened to William Saliba?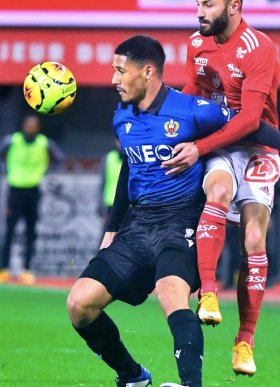 The arrival of

William Saliba

at Arsenal was greeted with much fanfare, as the club's supporters were confident they had signed the best young centre-back in Europe. However, a hasty departure out of the Emirates suggests otherwise.
William Saliba arrived at Arsenal in July 2019 from Ligue 1 side Saint-Etienne for a transfer fee of £27 million, leaving the Gunners' supporters delighted that the club would finally find a long-term replacement for Shkodran Mustafi. Saliba returned to his club shortly after that for one season, playing in 17 games for Les Verts. 

The Gunners would then bring the player to their first-team squad in July 2020, with Arsenal assigning Saliba the number 4 shirt for the new season.

Despite some regular appearances in pre-season, Mikel Arteta elected not to play Saliba even once, and the defender has now departed the Emirates in favour of a loan move to French side Nice.

What has happened to Saliba?

It is hard to understand exactly why Saliba has been ignored by Arteta, but rumours from the Emirates suggest that the club's coaches believe the defender is not quick enough to keep up with the speed of Premier League football, is shaky with the ball at his feet and more importantly, hints of arrogance.

This season Arsenal have turned to Gabriel and Rob Holding - and in recent times Pablo Mari - in their defence, with Saliba not even able to make an appearance on the substitutes bench in the Premier League.

There are also other rumours that suggest - unbelievably - Arsenal may have signed the wrong St Etienne centre-back, with Leicester City's player Wesley Fofana reportedly the player Arsenal were meant to sign. Fofana went on to join the Foxes for 40 million euros and has impressed since his arrival.

What next for Saliba?

Of course, it is not the end of the road for Saliba at Arsenal. Saliba himself admitted that Arteta told him that he was not ready for the first team.

'The coach immediately told me that I was not ready,' Saliba said. 'I would have at least liked to have had a chance to rediscover my rhythm.

'My first six months were difficult, because I was coming from six months where I wasn't able to train because I was at home and couldn't train outside, couldn't play.

'I arrived there as they were finishing the league season, so I was training alone. As soon as they came back from holidays, we quickly had the first friendly matches where I lacked rhythm and was a bit insufficient physically.'

Shaky starts at Nice

After making his second appearance for the French side yesterday, French reporters have been scathing of the youngster.

In his club debut, a 2-0 defeat to Brest, the defender picked up a yellow card, and just yesterday in an unconvincing 1-1 draw with Metz, Saliba was at fault for the opponent's equaliser.

What comes in the future for Saliba will be only down to the defender's confidence, should he successfully be able to bounce back from his recent disappointments.