Argentine midfielder aware of Arsenal transfer interest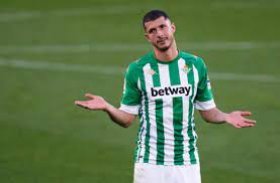 In an interview with Estadio Deportivo, Argentine midfielder

Guido Rodriguez

said that he is aware of the transfer interest from Arsenal.


The Gunners are likely to pursue another holding midfielder this summer and manager Mikel Arteta is reportedly keen on Rodriguez.

The 26-year-old only joined Real Betis from Club America in January last year, but he has already built his reputation.

He is currently the first-choice defensive midfielder ahead of William Carvalho, who was once a target for the Gunners.

Speaking to Estadio Deportivo, Rodriguez said that he is aware of the Gunners speculation, but does not have anything more to say.

"I saw it because friends from Argentina asked me, but I told them that I knew the same as them," he said.

"I am the protagonist because I am in the news, but today, I do not know more or less than you who saw it."

Rodriguez has a £68m release clause on his contract, but could be available for much less with Betis needing to balance their books.