Why Arsenal should sign Mudryk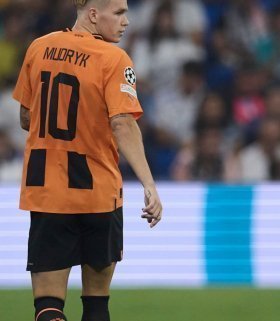 Arsenal are currently sitting pretty in first in the Premier League, but pundits agree that new faces are required to win the club's first title in 18 years. Mudryk appears to be the primary target at the Emirates.
Mudryk could be a future Ballon D'Or winner

Prior the Arsenal's 4-2 victory over Brighton, former Shakhtar Donetsk coach and current Brighton boss Roberto De Zerbi said that Mykhaylo Mudryk could become one of the world's best players, as the standout Shakhtar star continues to impress at the Ukranian side. 

De Zerbi quipped: "I think Mudryk can win the Ballon d'Or in the future. I know the value of Mudryk, he has the potential to win the Ballon d'Or."

With 10 goals in 30 appearances at Shakhtar, despite his young years Mudryk has caught the eye. Mudryk is desperate to move to the Premier League, and the Gunners need to move quickly to sign Mudryk ahead of a league rival.

Ukrainian influence at the Emirates

Oleksandr Zinchenko's arrival at Arsenal from Man City has been nothing short of a success, and it is understood that the versatile left-wing back has been in contact with Mudryk regarding a move to England. Zinchenko knows his fellow countryman well, and has informed the Gunners' scouting team that signing Mudryk would be a significant coup. 

Mudryk in social media

Mudryk appears to be set on a move to Arsenal. His constant videos and posts on Instagram that appear to show his love for the Gunners have captivated the Arsenal supporting audience, and his post last week with a picture of managers Mikel Arteta and Roberto De Zerbi went viral - Mudryk wrote above the graphic "2 great coaches". 

Prior to this, Mudryk continues to post videos of himself watching Arsenal games on his iPad. It is clear that the Ukrainian is desperate for a move to North London ahead of any rival club.

Arsenal's thin squad

Most Arsenal supproters would admit that they would never have expected the Gunners to have begun the New Year in first place, let alone with a seven point cushion. It is imperative that Arsenal should build on this progress and add new faces to their squad in the January transfer window. 

An injury to Gabriel Jesus has provided an opportunity to Eddie Nketiah, and the England under-21 striker has returned the faith of Mikel Arteta with two goalscoring returns in two Premier League games.

However, it is the attacking midfield that must concern Arsenal's coaching staff and director of football, Edu. Gabriel Martinelli, Buyako Saka and Martin Odegaard all will need a rest at some point, and despite having Fabio Vieira available as an attacking alternative, Reiss Nelson - who previously filled in earlier in the season - recently suffered an injury. The returning Emile Smith-Rowe will provide welcome relief for Arteta, but there remain doubts over the England international's lack of match fitness after a long-term injury.

Mudryk's arrival will provide cover, and competition across the Arsenal attacking midfield.

The Premier League title is within reach

2022 was an exciting year for Arsenal. The Gunners began the year with a defeat against Man City, but the team were unlucky in that game and since then have had an exceptional year. 2023 must continue with this same form if Arsenal will continue their march to a shock Premier League title.

Even the most pessimistic of Arsenal supporters are beginning to believe that a Championship title is possible.

Recent results have been going Arsenal's way, but the continuation of form is most important. Arsenal have some huge games coming up, with a visit of Newcastle United to the Emirates followed by a journey across North London to bitter rivals Tottenham Hotspur. 

The Premier League title is within reach, but new faces are needed. Mudryk could well be that player.