Bayern Munich enter race to sign Granit Xhaka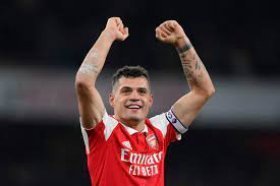 Bayern Munich have leapfrogged Bayer Leverkusen into pole position to sign Swiss international midfielder

Granit Xhaka

this summer, as Arsenal prepare for life after their long-serving vice captain. Leverkusen had been expected to sign Xhaka, but a last minute bid of 15 million euros has been submitted by the Bavarian side.


Xhaka will come to the end of his stay at the Emirates Stadium and seemingly played his last game against Wolves last weekend.

Xhaka's departure from Arsenal marks the end of his tenure as the club's long-serving vice captain, indicating a significant change for both the player and the team. Arsenal will need to prepare for life without his influential presence in midfield, while Bayern Munich aims to strengthen their squad by adding Xhaka's experience and skillset to their ranks.

The sudden interest from Bayern Munich presents an enticing opportunity for Xhaka, who will now have to weigh his options and consider the potential of playing for a successful club in one of Europe's most competitive leagues. As negotiations unfold, football fans eagerly await the outcome of this intriguing transfer saga and its impact on the upcoming season.

It is understood that Arsenal are considering a move for Youri Tielemans or James Maddison as a replacement for Xhaka.