Kinnear slams previous coaches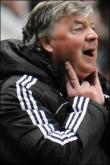 After Newcastle were defeated by Blackburn 3-0 at Ewood Park in the Premiership at the weekend, boss

Joe Kinnear

insisted that the team's failings are not his fault, but the blame lies with the coaches that managed the Toon before he arrived.
Blackburn walked Newcastle off the park in the Premiership tie at the weekend, to put Kinnear under heavy pressure.

"I've inherited this,'' Kinnear said. "They are not my players, everybody has forgotten that.

"But our biggest problem is a lack of strength in depth. Why wasn't it addressed by the last manager (Keegan) or the manager before him (Allardyce)?

"I am carrying the can for it. It is as simple as that.'

"I want to be judged on what I bring in. The depth of the first-team squad is not right at the moment."