Bent wants to prove his worth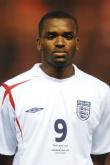 Darren Bent

has scored fourteen goals so far in the Premier League and still waits for his permanent first team spot.
The 25-year old English striker was not even considered for the international squad that played Spain. With fourteen goals in the Premier League, he has scored more times than any other English striker including Wayne Rooney, Gabriel Agbonlahor, Emile Hesky, Jermain Defoe or Micheal Owen.

Bent said that he has to play more matches for Tottenham and had been talking to the Spurs boss to give him a chance to prove his worth. He has only got 3 starts in the last sixteen games for the Spurs.

The former Charlton striker is suspicious about his future at White Hart Lane and might move to another club in the summer.