Stoke City - What is going wrong?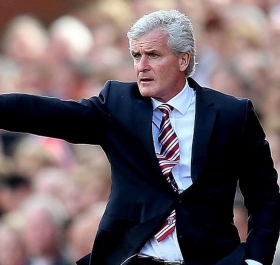 Stoke City are a side in real trouble. What started as a downslide at the back end of the 2015/16 season has continued, even spiralled, into a full blown disaster. After picking up just nine points from the last ten games of last season, they've secured just three in seven games at the start of this campaign. Stoke now have won just two of their last seventeen games, scoring just sixteen, but conceding an alarming thirty-eight goals in the process.




So is this a case of Stoke being in a dramatic but reversible slump, or is it the case that something has fundamentally shifted at Stoke, making it incredibly difficult for them to halt their slide down the league table?



Before I delve into this discussion, I don't think Stoke will be relegated. I think they've got enough in the tank to avoid that, and the Premier League has plenty of teams in it that on their day, Stoke are significantly better than, but that does not mean that they won't be dragged into a long and painfully drawn out relegation battle. That's what I want to look at.



So as I mentioned, Stoke's collapse in form very much started last season, and the warning signs were there at the end of last season. Stoke finished the season with an abysmal goal difference of -14, scoring just 41 goals and conceding 55, although those figures were skewed by a series of truly awful results against the top teams.



And that's where I want to start. I mentioned that Stoke had conceded thirty-eight goals in their last seventeen games. Over half of those goals came in five games against Man City, Liverpool and Spurs, each of whom put four past Stoke on every occasion. The other games that Stoke have lost in this period have come against Everton, Southampton and twice against Crystal Palace. So that's seven defeats out of their nine against teams that, on form, Stoke would have been hard pressed to beat anyway. During that same seventeen game period, they also drew against Man United and Chelsea, and beat a West Ham side that were extremely impressive at the end of last season.



So we're looking at a seventeen game period in which Stoke played ten fixtures against opposition that they would not necessarily have been expected to beat. To pin Stoke's dire form entirely on difficult opposition would be a fallacy, but nevertheless their tough start to this season, and their tough end to last season, is certainly exacerbated by their tough fixture list. This season their goal difference is -11 from seven games, but -7 of that comes from their two games against City and Spurs, both of which Stoke were in for a long time before eventually succumbing and defensively falling apart.



Nevertheless, Stoke's problems are in every area of the pitch and do not appear to be going away any time soon. This season, Stoke have only created one "great chance" and six "good chances", the worst in the Premier League. Moreover, they have conceded ten "great chances", and seventeen "good chances"; only Bournemouth and Swansea have conceded more. So in terms of both attack and defence, Stoke are sorely lacking.



Part of the problem for Stoke is in personnel and team selection. Wilfried Bony looks a shadow of his former self, and has been utterly abysmal this season, whilst keeping the superior Bojan and Mame Biram Diouf out of the side. Their other main attacking options: Shaqiri and Arnautovic are yet to consistently fire and Stoke look a team short on, and struggling to score goals.



In midfield, the problems get worse. Geoff Cameron is scarcely better in midfield than he is in defence (which is not very), Whelan is the epitome of pedestrian and all of their midfield creativity comes from Welsh maestro Joe Allen, who himself has had a mixed career for club and country.



But the majority of Stoke's problems are coming in defence, where simply put, they need another two centre backs. Ryan Shawcross looks nowhere close to the imperious defender that he used to be and he needs a consistent partner. Bruno Martins Indi looks like a good option there, but he's also been filling in at left back for Pieters, loaning out Wollscheid was a huge mistake, and Glen Johnson as a first choice right back is a recipe for disaster. It doesn't help that Jack Butland behind them is still, and remains for the foreseeable future, injured.



So all in all, problems in every area of the pitch for Stoke. Their confidence looked shot against Crystal Palace, a game where their defensive organisation and attacking prowess looked nothing less than non-existent. To be beaten, and deservedly beaten 4-1 by a mediocre Crystal Palace is nothing less than shambolic. Once Stoke conceded, twice inside the opening ten minutes, their heads dropped, the confidence was gone and Stoke never recovered. When they fall behind this season, they collapse.



So signs for positivity? Well some of the players that I've already mentioned. Arnautovic and Shaqiri are both match-winners, single-handedly capable of dragging Stoke kicking and screaming through tough fixtures. Joe Allen was superb against Man United, and he is the sort of player who can control a game, get his team-mates on the ball and heavily influence the play. Imbula has the potential to be a power-house in midfield, and if Bony and Shawcross can get back somewhere near their best, then they will significantly improve Stoke's goals for and goals against tallies.



Overall a Stoke team with Butland back in goal, with Shawcross playing well ahead of him and Bruno Martins Indi on form, gives them a much improved defensive stability. Imbula and Allen playing well in midfield bolsters that area of the pitch significantly; and Shaqiri, Arnautovic, Bojan and Bony/Diouf all playing together and playing well gives them a lot more creativity and strength to score goals. Simply put, whilst this Stoke side is dismally poor at the moment, they have a better squad than the likes of Sunderland and Burnley.



So where should this Stoke side expect to finish overall, and how can they improve? After all, football isn't a magic wand, you can't simply throw Shaqiri, Bojan etc. into the team and expect instant improvements. Form is such a huge issue and has been for Stoke throughout 2016. Their front half of last season was so good that they were on their holidays by March, and are now discovering the hard way that you cannot coast back into good form, and their form at the end of last season was relegation battle worthy.



The key for me is for Stoke's mental attitude to improve and the best way to do that is get a result under the belt. The United draw will be a huge boost, but what Stoke need to do now is keep a clean sheet, something that they haven't done in the Premier League since March, and done only twice this calendar year, against Newcastle and Arsenal.



Securing that clean sheet absolutely has to be Hughes' top priority. In order to do that, he needs to shore up his side's organisation from set pieces, which was still alarmingly absent at times against Man United. A central defensive partnership of Martins Indi and Shawcross does look to be the way forwards, and they both played well against United, but realistically, Stoke need to get Allen playing slightly deeper so that he can influence the game positively in a defensive sense as well as an attacking one, which would also free Bojan to come in in the CAM role.



In terms of scoring goals, Bony has to be dropped. Stoke have options up front, with Peter Crouch a more one-dimensional option, but also a better header of the ball and all-round goal threat, Bojan capable of playing as a striker and Diouf also available. Shaqiri and Arnautovic's form may be patchy, but since Stoke's only other main wide option is Jonathon Walters, they've got to just stick with them.



So where do I think Stoke can end up? Well they have the players to finish mid-table, and based on their performance against United they'll pick up their first win of the season sooner or later. I think if Stoke can improve to a reasonable level, they should finish lower mid-table, so maybe 12th-14th. But if their defensive problems don't improve before Butland returns, then they could be in for a long, hard season.