Why Fellaini, Lingard and Rashford Should Start Against Liverpool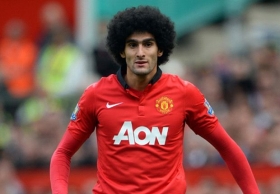 Later on tonight Manchester United play Liverpool in one of the most highly anticipated Derby's in recent years.
In my opinion, Liverpool are the favourites after coming in to it winning 4 games on the bounce and sitting only 3 points of off the top of the table with a game in hand. Manchester United however, have gone through a bad patch of form, resulting in them being 7th in the table. Here are 3 players Man United need to start against Liverpool, they may not be at the level of the likes of Zlatan and Pogba but they are essential in how the team functions.

Jese Lingard:

He may not have as much attacking threat as Martial or Mkhitaryan, but Jese Lingard has the work rate, stamina and discipline that is paramount for the Red Devils in the left wing position. Liverpool's right hand side is arguably the best attacking threat in their team, with Sadio Mane's explosive pace and creative brilliance and Clyne's constant overlaps and improved crossing. Therefore it will be imperative for United to have a left-winger who can track back and help out defensively, and Jese Lingard fits that role perfectly. He also provides something in attack, creating 7 chances in the 3 games he's played for United this season and averaging a 90 percent pass accuracy.

Marcus Rashford

One of Liverpool's main weaknesses is their left-back position, whether it is James Milner or Alberto Moreno, it is a defensive weakness that Manchester United need to exploit. Marcus Rashford has scored 3 goals in 5 games in the Premier League this season, only starting 2 of those 5 games. One of Rashford's main strengths is his direct running at defenders, something which will certainly trouble James Milner. The occasion will certainly not trouble the 18 year old, especially considering his scoring record in debuts.

Marouane Fellaini

Manchester are likely to set up with a midfield two, Pogba will certainly start and in my opinion Fellaini should start next to him. In recent weeks Herrera has started in the defensive midfield role, and played it extremely well, however these performances were against the smaller teams, and I don't think he provides the physicality United need in the big games. Fellaini will not be afraid to put in a crunching tackle and really make a statement against Liverpool near the start of the game, and I believe his defensive cover will free up Pogba to push on in attack. You could argue that the midfield two of Pogba and Fellaini were completely overrun against Man City, and you would be right. However this was as a result of Guardiola's 'free 8's', which are threat United don't need to worry about against Liverpool.