Romelu Lukaku on verge of exit as Everton line up two major signings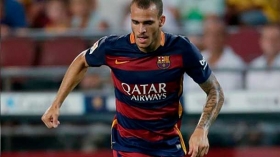 Ronald Koeman

has been given the green light to sign two players he personally scouted in the past week.
Ronaldo Koeman looks to prepare for life without Lukaku as he has been given the green light to sign Malaga forward Sandro Ramirez and Ajax captain Davy Klaassen.

Koeman watched Sandro with Everton director of football Steve Walsh, and according to the Mirror, "he has been told his Spanish club Malaga they will honour a clause that lets the player leave this summer for just £5m."

The 21 year old Sandro, who has only missed one game all season, has scored 14 goals and provided 2 assists in 28 games since moving from Barcelona. Malaga coach Michel has lamented the fact that Sandro is in demand and has said "We cannot keep him if he doesn't want to continue. He is crucial, but so are others. We can't do anything more than all the efforts we have made, and all we have to do is wait for his decision." 

Meanwhile, Koeman went back to his native Netherlands to watch Ajax captain Davy Klaassen in the Europa League semi-final tie between Ajax and Lyon, which the former won 4-1. Klasseen has been integral in Ajax's run to the Europa League final and has established himself in the Dutch national team. Koeman is ready to meet the £20 million price tag slapped on Klasseen by Ajax. When asked about his future, the 24 year old shrugged and replied "I do not know." 

The personal scouting done by Koeman points to a deal, and this would surely be a reaction to Lukaku leaving. He has been linked to a number of clubs including Manchester United and Chelsea.