Manchester United to bid £12 million for Javier Hernandez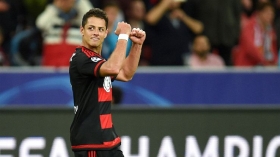 Manchester United will look to bring Chicharito back to Old Trafford for £12 million this summer, according to the Sun.


Jose Mourinho has spoken out before to criticize Louis Van Gaal's decision to sell Hernandez. In an interview earlier this year between Gary Lineker and Mourinho on Match of the Day, he said "Manchester United sold players that I would never sell, and bought players I would never buy. I would have never sold [Angel] di Maria, Chicharito [Javier Hernandez], Danny Welbeck, never, no chance." 

Javier Hernandez famously scored 20 goals in his debut season for Manchester United. After being sold to Bayer Leverkusen, he went on to score 26 goals in only 40 games in his debut season in the Bundesliga. He is still going strong this season, scoring 12 goals in 34 games. At 28, Hernandez is at his peak and would be a perfect addition to a Manchester United frontline that has lacked conviction in front of goal many times this season. 

After the interview between Jose Mourinho and Gary Lineker, Javier Hernandez took kindly to Mourinho's words and the pair has communicated on Twitter via retweets and mentions. The good relationship, or at least the perceived one, might be a large factor in Hernandez coming back to Manchester United and Mourinho would hope that a bid of £12 million would get him back.

Javier Hernandez would not pose a threat to the likes of Marcus Rashford, who he can play off from time to time, and at his low price, would still allow Mourinho to spend on marquee players such as Antoine Griezmann or Romelu Lukaku.