Griezmann is not Manchester United's top transfer target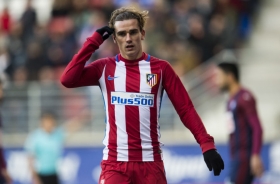 Antoine Griezmann

is widely expected to complete a move to Manchester United, however, he is reportedly Mourinho's third-choice in the Portuguese's transfer list.
Respected Italian Journalist Gianluca Di Marzio has shed new light on the Antoine Griezmann transfer saga by claiming he is not a priority signing for United manager Jose Mourinho. 

The report stated that Mourinho has prioritized two players ahead of Griezmann - Monaco's Kylian Mbappe and Real Madrid's Alvaro Morata. This would suggest that Mourinho is looking for an out-and-out centre forward as opposed to someone who drops in deeper to get the ball like Griezmann. 

Manchester United had a dismal domestic season, finishing sixth in the league, with a lack of goals being one of the major problems. Mourinho's side only scored 54 goals, less than Bournemouth and the lowest out of any top 7 side. 

The Red Devils reliance on Zlatan Ibrahimovic was clear as the forward scored 28 goals in 46 games including 17 in the league, almost a third of Manchester United's goals.  

The second highest scorer for the club in all competitions was Marcus Rashford with 11 goals, less than half of Ibrahimovic's tally. 

It might now come as less of a surprise that Mourinho prefers an out-and-out striker like Mbappe or Morata over Griezmann. The 18-year-old Mbappe scored 26 goals in 44 games while 24-year-old Morata scored 20 goals in 42 games, with many of them coming off the bench as a substitute.  

However, the hefty price tag of Mbappe might push Mourinho into getting both Morata and Griezmann in the summer transfer window instead.