Everton scout claims Olivier Giroud will leave Arsenal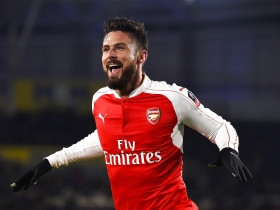 Olivier Giroud

will leave Arsenal this summer, according to an Everton scout. The Toffees have been linked with a &pound20 million move for the French striker.
With Alexandre Lacazette expected to wrap up a move to Arsenal this afternoon, Giroud has been tipped to head for the Emirates exit door. Everton scout Carlo Jacomuzzi claims that Arsenal have agreed to let the striker leave, but does not go as far as confirming a move to Everton is imminent.

Everton are believed to be looking for a long-term replacement for Romelu Lukaku, believed to be headed to Man Utd or Chelsea.

One player that the Toffees want to sign is Duvan Zapata of Napoli, but it is understood Olivier Giroud is their preference.

Jacomuzzi told reporters: "There are no developments in the negotiations between Everton and Zapata, also because I think Everton are today going to finalise a deal for Giroud for £20 million, which is a bargain compared to the £25m being demanded for Zapata."