Torino president confirms that no bids have been made for Andrea Belotti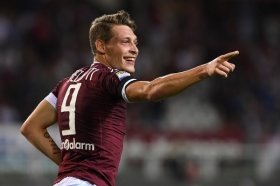 Amidst many reports linking Torino's star striker to a move away from the club, most notably to Chelsea and Manchester United, Torino's president revealed there haven't been any bids for Belotti.
Belotti had a fantastic season for Torino as he scored 28 goals in 38 games, including an incredible 26 goals in the Serie A, finishing third in the scoring charts behind Edin Dzeko and Dries Mertens. 

Manchester United were previously reported to have lodged a £61 million bid for the striker which was rejected by Torino. Chelsea have been strongly linked to the forward over the last few days after missing out on their number one target Romelu Lukaku, who joined Manchester United instead. 

However, Torino president Urbano Cairo has confirmed that the club have not received any bids for their star man. 

Speaking to Sky Italia, Cairo was quoted as saying: "For now no-one has come in for him. I'm glad he's with us and I hope he can stay."

"They weren't real offers, but there were contacts. I don't want to imagine a Toro without Il Gallo."

Cairo then admitted to a lack of confirmation on Belotti's side about a stay and said he would be meeting the player soon: "I want to talk to him, I want a confirmation."

Belotti has a €100m release clause which the Torino president insisted must be met before the club even considers selling Belotti.