Doubts surrounding Nainggolan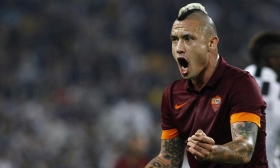 Radja Nainggolan

's future is still in doubt as he has still not renewed with Roma, and a recent instagram comment has added to speculation that he could leave the Giallorossi. 


The 29 year old is still waiting on his contract renewal and several clubs are circling, with Inter Milan reportedly preparing a 50 million euro bid for the Belgian star. Man United have also previously shown interest in the player but that has now died down. 

The Belgian's salary may be a key factor in whether he will renew with Roma or not, as Nainggolan currently earns 3.2 million euros per year, which the Belgian believes is too low. Other teams such as Inter Milan are willing  to offer the 29 year old a much higher salary for his services. Considering this Roma will need to make a mammoth offer to convince Nainggolan to stay at the Olimpico. 

Roma have already sold Rudiger, Mohamed Salah, Mario Rui, Leandro Paredes, Wojciech Szczesny and Francesco Totti this summer, and Nainggolan raised further doubts with his comment on Rudiger's instagram post. The Belgian commented "I dont know" regarding his future at the club, with teamate Mohammed Salah adding, "its time for Radja now". 

It remains to be seen where Radja's future lies.