Alexis Sanchez's agent urging forward to remain at Arsenal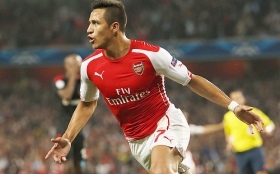 Sanchez's agent 

Fernando Felicevich

is now reportedly trying to convince his client to remain at Arsenal as he thinks the Chilean would be able to get more lucrative contract offers as a free agent.
Alexis Sanchez's future at the club remains uncertain even after Arsene Wenger refuted many reports linking the Chilean with a move away from the club. 

Sanchez previously expressed his desire to play in the Champions League, saying: "I have made my decision, but now the decision has to be taken by Arsenal. It depends on them. I have to wait to know what they want. My idea is to play and win the Champions League. It's a dream I have had since I was little."

However, Arsene Wenger followed up by saying Sanchez will be staying at the club regardless of what the media says or reports. 

This had led many to believe that Wenger will be ok with Sanchez leaving for free after his contract ends in 2018. In Wenger's eyes, immediate results are needed and it is something demanded by both fans and the board. While cashing in on Sanchez would be the more financially sound decision, there are hardly any players who would be able to replicate Sanchez's form in the Premier League.

Furthermore, Sanchez would still have an incentive to continue putting in good performances with the World Cup coming up in 2018 and also to ensure top European clubs vie for his signature after next season.

This is a sentiment shared by his agent Fernando Felicevich, according to the Mirror. He believes that Sanchez will be able to get more lucrative contractual offers as a free agent as the decision will be entirely out of Arsenal's hands.