Wenger plays down Guardiola effect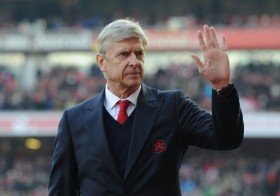 Ahead of Arsenal's clash with Manchester City in the EFL Cup Final on Sunday, manager

Arsene Wenger

has been speaking about his team's chances of cup glory and how much he attributes their opponent's rise to the top of the Premier League to the managerial abilities of his counterpart,

Pep Guardiola

. 
Manchester City are going well in the Champions League, have dominated the Premier League and have the chance to put the EFL Cup in the trophy cabinet on Sunday if they can overcome The Gunners at Wembley. 

Spanish manager Pep Guardiola is no stranger to success in his managerial career. Both Barcelona and Bayern Munich dominated under his tenure and now he sits on top in England. 

Of course, Guardiola has spent huge amounts of money assembling his squad since his arrival at The Etihad, however, some claim that the star asset is Guardiola himself. 

In a press conference ahead of Sunday's final, Arsene Wenger was asked whether he thought that Pep Guardiola had raised the managerial bar in England since his appointment. 

The veteran Frenchman was quick to dismiss this suggestion, hinting that the real reason that Manchester City are pulling away from the rest of the Premier League pack was less to do with their choice of manager and more to do with the size of their chequebook. 

Whilst remaining respectful of Guardiola's previous achievements, Wenger also insinuated that his counterpart had experienced an element of luck with his past team, i.e. the emergence of a certain Lionel Messi at Barcelona. 

Arsenal go into Sunday's Final as underdogs, but The Gunners have a good record at Wembley, meaning this one should be intriguing to watch.