Long-term Manchester United target reportedly set for January move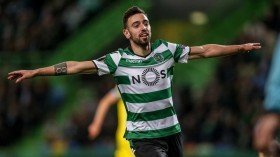 Long term Manchester United target

Bruno Fernandes

has reportedly turned down a new contract at Sporting CP, paving the way for a potential move in January.
The Portuguese midfielder has been linked with a move to Old Trafford for well over a year now and if he does not sign a new contract, Sporting may be tempted to sell him rather than letting his valuation drop.

United are reportedly keen on bolstering their midfield options and Fernandes would represent a great signing who can contribute with both goals and assists. Bruno had a brilliant last season, scoring 20 goals and making 13 assists in the league playing as an attacking midfielder. He has started this campaign in the same form with five goals and five assists in eight league games so far. The attacking midfielder could be available for a reduced fee given the stagnation of his contract renewal. 

United are also reportedly keen on signing Christian Eriksen or James Maddison to bolster their thin attack. Ed Woodward recently spoke on transfers saying "We're usually after three players, so we might be talking to nine in reality. What you are referring to in the original question does happen, but it's less likely to happen give our closed-door approach to recruitment targets. But it does exist and we have to be wary of that [players using the club. Sometimes, the amount of time a player or his agent invests into discussions, meetings and contracts shows that there is an interest."