The not so secret number 9 - Patrik Schick is helping lead Leipzig's title push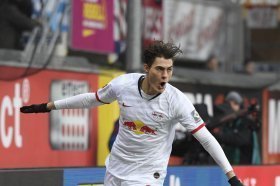 Patrik Schick

's recent form has finally seen the young striker begin to live up to the hype that surrounded his move to Roma and now he is RB Leipzig's secret weapon in their quest for domestic and European glory.
Nagelsmann's sweeping Leipzig side have forced open the German Bundesliga race and made them a dangerous animal in the Champions League.

Before the start of this season with the club holding onto a number of its key players especially in attack it seemed a curious move for the club to move for Schick. The club's scouting department though identified a number of key traits that made the Czech international a key transfer target as a perfect potential foil for goal machine Timo Werner.

Operating as a classic 'Number 9', Schick has all the attributes of a focal attacking point for his side to construct their assaults on the opponent's goal and after the weekend netted his sixth goal of the season in only his tenth league appearance.

This may of come as a surprise to numerous clubs and fans around Europe after a difficult 2 seasons at Roma but Leipzig had no doubt in his ability and what he could bring to the side and Die Rotten Bullen are finally beginning to reap the rewards of their calculated gamble in the summer.

"Patrik is a very athletic, technical and versatile player, who also brings with him international experience. He'll enrich our attacking play and — with his abilities — give us more variation." Leipzig sporting director Markus Krösche.  

As with some talents, opportunity and fit have their part to play in order for the player to reach their zenith and the young striker has a well-trodden path at the ripe old age of 24. A record transfer to Roma preceded his move to Saxony in the summer of 2017 from Genoese club Sampdoria where the young striker impressed netting 11 goals in 32 appearances. Roma though were not the first club to show an interest in the Czech with Turin rivals Juventus having two failed attempts at signing the striker due to health concerns around his heart.

Not to be deterred the Giallorossi agreed a deal with Samp to sign the striker on an initial loan with an obligation to buy.

His time in the capital lasted only two quiet years in which his career failed to take off due to injuries and his failure to hit the back of the net, only scoring 5 times over his two seasons, making an exit for the striker seem likely especially with the evergreen Edin Dzeko returning to the side.

How times can quickly change though. With his injuries behind him, a regular strike partner who is sharper than a rapier in Timo Werner and a squad brimming full of talent, Schick is developing into a player who deserves to play on Europe's elite stage.

"Obviously I've come here to help the team and to achieve our aims together. I'm delighted everything worked out in the end."

Leipzig's managerial guru Nagelsmann has tinkered with a few systems in his time as head coach but has recently settled on a dynamic 4-2-2-2, utilising Timo Werner to the left hand side of the front 2 and Schick to the right, flanked by creative attacking midfield options like Christopher Nkunku, Marcel Sabitzer and Swedish talisman Emil Forsberg.

From here, the Czech can move to the middle and operate as the fulcrum with his back to goal, allowing Werner to drift wide to the left and cut in, drop deeper and make runs or play on the shoulder of the last defender. He has good size at 6ft 1, winning over 3 aerial duels a game and helping draw the attention of defenders, creating space for the supporting cast with which he dovetails neatly utilising his excellent technique.

An exquisite example of this skill in action was his recent goal against Paderborn.

To utilise Schick as a lone forward though takes away from his underrated all round attacking game. Looking at his player persona, the Czech striker likes to dribble using a good turn of pace to get away from his opponent (Schick is averaging 5.7 dribbles per game) to get a shot on goal of which he is averaging 2.3 shots a game this season helping him to 6 goals in 10 appearances this season.

This is a good illustration of what the Czech forward brings to his current side. Though he can drift wide, when it comes to the crux of an attack the forward finds himself in and around the penalty area highlighted by his high number of shots both on and off target as well as competing for crosses.

Schick comes to life when surrounded by a supporting cast and his struggles at Roma pointed to this. Often deployed as a lone striker in a 4-2-3-1, Schick found himself tightly marked by opposing centrebacks.

As the lone beacon for defenders, the striker found it difficult to find the space he was afforded at Sampdoria where he was supplied with ammunition by now Manchester United midfielder Bruno Fernandes and talismanic Fabio Quagliarella to share the goal-scoring burden.

Nagelsmann though now has unlocked Schick's talent and is fully reaping the rewards and at the time when the season is coming to the defining stages.

"He's shown a lot of good moments, especially with his back to the goal. He attacks very well and is eye for goal is clear to see" - Leipzig head coach Julian Nagelsmann

With Leipzig turning up the heat on Bundesliga rivals, a Champions League return seems the very least that the side will recoup from this season and with this they have the option to make Schick's move a permanent one.

Should though a move fail to materialise you can bet a number of clubs across the continent will be hot on his heels to seal his signature.