Tottenham's transfer window not yet complete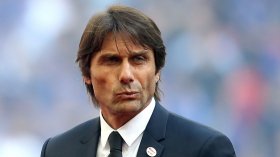 Tottenham manager

Antonio Conte

has informed the press that he is not yet finished with his plans to sign more players this summer. Spurs have been one of the Premier League's busiest, bringing in some high profile names ahead of the new season.
With Conte guiding Spurs to the Champions League, the club and board have opted to open the coffers giving the Italian a reported 120 million euros to spend on new faces.

Ivan Perisic, Fraser Forster, Yves Bissouma, Richarlison and Clement Lenglet have all already joined the White Hart Lane outfit.

"Yeah, we signed five players and when the ideas are very clear it's more simple to go into the transfer window and sign the players," Conte said. "Our plan was very clear about the positions and the roles in which we needed to improve and we did it.

"I think the club worked very well in this window. For every coach to have the players quickly is very important because you can work with them and try to put them into our idea of football. In the past....I think it was good to sign five players quickly.

"Now we'll see what happens. We are always looking to strengthen the squad if there is the opportunity. We want to improve numerically the squad. 

"I repeat to play four competitions is difficult. You need a really good squad, with the numerical aspect and the quality aspect. "