Germany Rising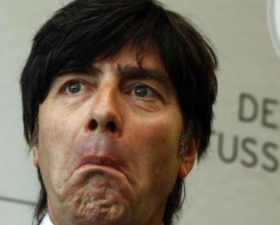 The momentum has been building for a good few years now.

Joachim Low

has built a squad that is ready to bring the World Cup back to Germany.


If there's an award for 'Most Consistent Team' at the World Cup, there's no surprises in that category. Germany have been a mainstay at the World Cup stretching back for as long as we can remember.

I grew up watching football back in the 90s when Jurgen Klinsmann and Oliver Bierhoff were leading the line ahead of a clutch of German players such as Jens Jeremies, Oliver Neuville, Lothar Matthaus and Oliver Kahn.

Back then, they were steady, a bit boring but knew how to win. The turn of the century brought with it a new batch of players in a similar mold. Miroslav Klose was prolific in front of goal (with a sommersault to boot), and Michael Ballack pulled the strings in midfield.

But the same could be said of that side, consistent yet probably not quite as riveting as say the French or Italians of that time.

With Joachim Low, came a new fresh crop of players in 2010, Thomas Muller and Mesut Ozil were new faces with pace to burn and a keen eye for goal. It seemed surreal at the time to watch an exciting free flowing Germany, but it was a sign of things to come.

Now with even more youngsters coming into the fold - like Toni Kroos, Mario Gotze, and Julian Draxler; this German team looks like its about to decimate everything in front of them.

That's not to say that this team is particularly fiery. Gone are the days of barking mad goalkeepers or bearded midfield destroyers; they are replaced by a keeper swift to sweep up behind a defence of calm and ready centre backs.

In fact, this German side are really not as bruising as previous versions; relying more on pace and fluid positioning to outflank and outwit defences.

Rather than relying on height, physicality and brawn (all of which are still very much in play, mind); the Germans are now much more inventive, and patient in possession.

This is epitomized by the inclusion of Toni Kroos, who has been instrumental in dictating games from midfield; intelligently distributing the ball and pushing forward instinctively to find pockets of space.

The Bayern Munich midfielder, widely tipped to join Real Madrid this summer, is seeing his stock rise quickly with Paul Scholes chiming in on the quality he's displayed.

He has been ably assisted by Sami Khedira and Bastian Schweinsteiger who have provided an elegant foil for him to pass the ball at ease. Possessing both physicality and finesse, Khedira has been the unsung hero in the German midfield, while Schweinsteiger has assumed a more deep lying role similar to the one he occupies in Bayern Munich to great effect.

There is still one final test before the Germans can take their place in history next to the World Cup greats of '54, '74 and '90.

The Dutch would have a point to prove, considering that they have yet to lay hands on the trophy despite their brilliant football culture. Louis Van Gaal will be desperate to add this, the biggest prize in international football, before starting his career afresh at Manchester United.

Argentina may have a slightly lesser chance of progressing due to the injury to Angel Di Maria but are set to have Sergio Aguero back in the mix. Lionel Messi would also be keen to step out from under Diego Maradona's shadow and lift the trophy for himself, cementing his position as the World's Best Player.

Though my money is on the Dutch to win the whole thing; they will have a massive test waiting for them in the Maracana stadium if they make it past the semis.