Premier League: Talking points from game week 29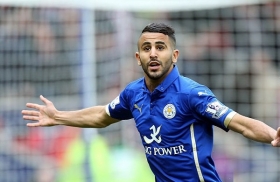 Nearing the business end of the season, the past game week held great importance in the overall context of the Barclays Premier League. Some pretty interesting results saw the League standings affect all teams either for the good or for the bad. Arsenal showed good character to draw at the White Hart Lane while Leicester continued their merry run towards their title charge which is now just nine matches away. At the bottom Newcastle and Norwich both struggled while Aston Villa are now all but in the Championship for the next season. Here's a look back at all the major talking points from match week 29 of the Barclays Premier League:
1-    Manchester United back to dropping points:

 After winning four matches back to back in all competitions expectations had just started to take off a little for the Red Devils. West Brom on the other hand had a mixed bag of recent results , winning two and drawing two of their last five games. United were given an early blow when their newly appointed Captain Juan Mata was sent off at the 26' minute mark following a second yellow. United with 10 men never looked like troubling Tony Pulis' side, who themselves made sure of their extra man advantage scoring with Salamon Rondon in the 67th minute which on the day was enough to seal 3 points for  a West Brom side who now have all but made their survival certain. United on the other hand have now dropped down to sixth in the league meaning that the fight for the fourth place only gets tougher for them.

2-      The mud seems to be settling at the bottom of the table:

Relegation battles have always been scrappy and not long ago it seemed that the fight for survival too might be as scrappy as it has been for several years with all of the bottom five-six sides struggling. But the story has been taking a different route this season with Swansea, Bournemouth and West Brom picking up crucial wins, the picture at the bottom is starting to look much more clearer now and it appears to be a fight between just the four sides three of which are separated by just one point. Sunderland let their lead slip to a Van Djik goal against Southampton, losing out on crucial 2 points which could be very costly come the season end. Newcastle and Norwich both lost this weekend and the situation looks more and more complicated for these two sides. Aston Villa lost to City after a good display in the first half but it comes to no use as they remain nine points off Sunderland placed 17th on the table.

3-      The race for Europa League paces is getting Hotter

West Ham and Manchester United currently hold the fifth and the sixth places respectively but face some stiff competition from the likes of Liverpool , Stoke , Southampton and Chelsea all of whom have a slight chance of making it to Europe's second tier competition next season. Liverpool staged a late comeback against Palace while Chelsea drew at home to Stoke. West Ham's brilliant season continued as they scored thrice in the last twelve minutes to hand Everton another home defeat in the League as West Ham look sure to make it to Europe next season. Southampton's draw against Sunderland means that they too still remain in the race and with nine matches still lef to play a lot can happen between the mid table sides.

4-      A pulsating North London derby ends in a thrilling draw:

The stage was set for one of the most important North London derbies of recent times. Both teams in with a chance of winning the league and both in desperate need of three points to keep the pressure at the top of the league. Arsenal probably a bit more after having lost to an inexperienced Manchester United and to Swansea this fixture probably meant for Arsenal just to stay in contention. The game began with Spurs dominating but Arsenal struck first with Aaron Ramsey. A sending off for Francis Coquelin meant that Arsenal had to deal with 10-men for around thirty five minutes in this high octane derby. Alderweireld and Harry Kane stuck in two minutes to make it 2-1 to the home side. But Arsenal held on and after the Oliver Giroud's introduction made it 2-2 with the Chilean Alexis Sanchez putting the Gunners on level terms in the match and earning a vital point in the quest for the Premier League. The draw keeps Arsenal's hopes hanging by a thread as they cannot afford to drop any more points this campaign.

5-      Leicester City edge closer and closer:

Leicester City continued their fairy tale run as they beat Watford 1-0 at Vicarage Road. Yet another clean sheet for the Foxes and it was Riyad Mahrez once again who scored the goal for Claudio Ranieri's men as they put in yet another impressive performance . The victory , meant that Leicester are now five clear of second placed Tottenham and eight ahead of third placed Arsenal. The win also means that Leicester now have eight clean sheets this season, six of which have come in 2016. The loss meant that Watford remain on thirty seven points and pretty much nothing to fear off as relegation seems pretty far-off at the same time any European place seems a distant dream. Flores's side will still look go as high as they can given that a top half finish would be higher than what anyone would have expected of them at the start of the season.