Van Dijk to return to Southampton squad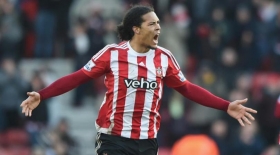 When

Virgil van Dijk

was left behind when Southampton travelled to France as part of their pre-season training, with the club's explanation suggesting that he was not in the right frame of mind to be part of the squad, it looked like he was on his way out of St Mary's. However, it is understood that manager

Mauricio Pellegrino

intends to reintegrate his captain with the rest of the team this week.


Van Dijk has been the subject of endless interest from top Premier League clubs in recent months, despite Southampton insisting that he is not for sale. The Dutch international's ability to provide an attacking threat in addition to his solid defensive performances would make him a strong addition to any side, with fees of around £50 million being suggested.

The Saints' captain has not appeared since January as a result of ankle ligament damage which he picked up in the club's 3-0 win over Leicester City. This has not deterred rumours linking him with an exit from Southampton, with Liverpool, Chelsea and Manchester City said to be monitoring his situation closely.

With the new Premier League season looming, Mauricio Pellegrino now intends to bring van Dijk back into first team training, suggesting strongly that the club will stick to their word and not sell the 26-year-old.

It has become common place in recent years for Southampton to cash in on their star players at the end of each season, leaving themselves with a big profit but a huge rebuilding job on their plate. Adam Lallana, Luke Shaw, Morgan Schneiderlein and Sadio Mane are just a few have been sold by the south coast club for a healthy return.

That is a reputation that Southampton chiefs are determined to shake off by keeping hold of key first team players. As well as Virgil van Dijk, Saints bosses want to assure that left back Ryan Bertrand is still at the club on opening day.

With Southampton finding themselves in a comfortable financial state, they are in no rush to sell van Dijk, particularly with him having 5 years remaining on his contract.

Whether they genuinely believe that they will have him in the team for their first fixture against Swansea City or they are using the situation to get the very best price that they can, when it comes to Virgil van Dijk, Southampton are in a very strong position.