What can Celtic do to ensure a chance against French champions Paris Saint-Germain?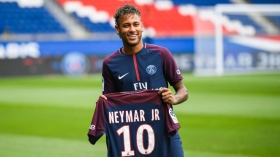 Celtic need only to look back 10 weeks for fair warning about the capacity of Paris Saint-Germain's (PSG) ferocity after their record home European defeat was inflicted by the French champions.




Their 5-0 thrashing left players speechless, and although they showed fight in the second half, it simply wasn't enough against PSG.



But the Hoops didn't let that get them down for the rest of their Champions League games. They went on to win their first ever European away game against Anderlecht with 3-0 and gave Bayern Munich a run for their money in their home game.



Celtic will look to boost their chances of claiming a place in the Europa League after Christmas when they face PSG tomorrow night.



So what can Celtic do to ensure a chance against the French giants?



Put Moussa Dembélé up front



It's going to be tough for whoever goes up front against PSG, but Dembélé is the man for the big stage. Not only does he look more intimidating, with the muscle to cause PSG defensive problems, but these type of games suit him. As long as it suits Brendan Rodgers' tactical plan, Dembélé's game will carry an extra edge if he's given the starting spot.



It's horses for courses, and the Frenchman offers more in attack for these types of games. Even if Leigh Griffiths is an ace goalscorer, he'll just have to accept that Dembélé will come first this time.



Use the same team as the 1-0 win over Ross County



Rodgers usually prefers to change his team from one game to the next, especially when that includes a domestic match followed by a European one. With the Betfred Cup final this Sunday against Motherwell, he may have been tempted to change up the players for the trip to Dingwall before going back to a stronger XI against PSG.



The fact that Rodgers didn't do that just shows that that's the strongest team available to him at the moment. With the exception of ozo Simunovic, who was an unused sub on Saturday and isn't yet sharp enough to be thrown in against the might of PSG.



Remember their formation change didn't work last time



The last time Celtic faced PSG in September Rodgers moved from the usual 4-2-3-1 formation to 4-1-4-1, which at times looked like a flat five in the middle.



It was midfield that suffered most from this change. PSG do not play with a normal attacking midfielder, with Adrien Rabiot being the most advanced and having a tendency to go out wide. So when Scott Brown sat in front of the back four – despite it seeming like an obvious position for him being a defensive midfielder – it left him without an obvious opponent to mark.



This in turn meant Brown often had to step out of position, creating further gaps behind him that PSG were able to exploit, which contributed to their second goal.



Perhaps using a different formation than the 4-1-4-1 would help ensure they won't make any similar mistakes to last time.



Don't get awestruck because they are a bigger club



It was clear that Celtic were awestruck by PSG the last time they faced each other. Similarly to when they lost 7-0 to Barcelona in last season's Champions League group stage.



Although Lionel Messi and his team played incredibly well in that game last season, there were many times where Celtic sat back and admired their opponents, letting them get through untouched.



This is what happened against PSG back in September, too. The Hoops showed their big-name opponents too much respect, especially in the first half. They seemed to be stuck between trying to press high and wondering whether to stay back, and ended up being too passive.



Remembering this will serve Celtic well tomorrow.