Manchester City's £49m business for Raheem Sterling now leaves Manchester United red-faced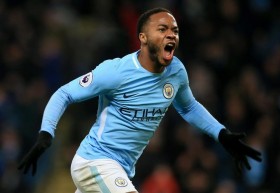 The stunning manner in which Manchester City tore Southampton to shreds at the weekend certainly had fans of the champions chirping. Rightly so,

Pep Guardiola

's men were on fire. In this form, there are few teams in world football who can live with City.


One player who was especially magnificent was Raheem Sterling. The England international has come on leaps and bounds under Guardiola and Southampton simply could not live with his speed of body and mind.

After the game, an article from July 2015 started circling online. Involving Sterling, Manchester City fans loved the content. It was entitled 'Manchester United's £52.7m outlay on guaranteed class looks brilliant business compared to City's ludicrous Sterling splurge'.

The London Evening Standard suggested that Manchester United's business to sign three international players at £52.7 million was better than a deal to sign Sterling for £49 million.

At the time the 20-year-old was making more headlines off the pitch than on it. Therefore, such a story was perhaps pertinent at the time. It was also an era before Neymar, Philippe Coutinho, Kylian Mbappe and Ousmane Dembele broke the £100 million barrier. However, it has not aged well.

The three players Louis van Gaal shelled out for were Bastian Schweinsteiger, Matteo Darmian and Morgan Schneiderlin. Only one, Darmian, remains at the club but as a fringe player. The German maestro had clearly lost his magic. He was eventually flogged to Chicago Fire. Schneiderlin was often a passenger. Sold to Everton in January 2017, he is now a fairly unpopular figure at Goodison Park.

Meanwhile, Sterling has emerged as a Premier League sensation. The impact Guardiola has had cannot be understated. It is hard to imagine how Sterling might have turned out for City under the guidance of a more laissez-faire boss.

But Pep has sculpted a supreme attacking option who is capable of taking Manchester City to the Premier League title again this season.