Stan Kroenke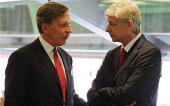 Date of Birth: 29 July 1947

Birthplace: Columbia, Missouri, Columbia, Missouri, U.S.




News from around the web

Stan Kroenke makes key changes to Arsenal board and sends message to the club's supporters
by Stan and Josh Kroenke, who have confirmed they plan to remain at the Emirates Stadium for the long haul. In a statement released on the
15/07 17:00




News from Eyefootball

Arsenal are reportedly planning to make three big-money signings when the transfer window reopens this summer.

It has been revealed that Arsenal manager Mikel Arteta convinced the board to shell out for Atletico Madrid defensive midfielder Thomas Partey on deadline day.

Transitory periods in the life of a professional football club are very much needed to ensure proper growth. It is not easy or maybe even impossible to get through them without a scratch. In many capacities, Arsenal F.C. faces such difficulties of change, with one of the upcoming challenges ahead of them their performance in the transfer market.

I can not remember the last time that I saw such a poor and unorganised Arsenal lacking in motivation, probably the early 1980's. However, the Wenger Out brigade is probably going to have to wait a little longer; here is how I think Arsene can stop the rot.

Mesut Ozil has stressed that he will give his 100 percent to Arsenal despite the ongoing speculation linking him with a move to Manchester United.

Arsenal majority shareholder Stan Kroenke has reportedly lodged an attempt to purchase Alisher Usmanov's stake with the north London giants.

Arsenal manager Arsene Wenger has reportedly travelled to France to negotiate a transfer agreement for long-term target Alexandre Lacazette.

Russian magnate Alisher Usmanov remains keen on becoming Arsenal's major shareholder despite a failed takeover earlier last month.

Arsenal boss Arsene Wenger will reportedly ink a two-year contract with the north London club following the FA Cup final against Chelsea this weekend.

Arsenal's majority shareholder Stan Kroenke has revealed of his willingness to provide sufficient funds to Arsene Wenger during the January transfer window, as he aims to end the Gunners trophy drought.

Arsene Wenger has insisted that he would "love" to stay with the Gunners "forever", as he denied speculation suggesting of him leaving the club in the summer. 

Arsenal chairman Sir Chips Cheswick has promised the club's fans that the Gunners will spend more money in the upcoming transfer window in January should manager Arsene Wenger decide he needs to add more players to his squad.

Uzbek Billionaire and shareholder Alisher Usmanov wants to increase his stake in Arsenal in a move that could cause several boardroom battles at the London club.

Arsenal's majority shareholder Stan Kroenke has offered his full backing to club manager Arsene Wenger, despite a poor start to the season.

Arsenal have made significant progress with Samir Nasri's representatives over the last 24 hours, according to a source close to the player. Nasri's current deal expires in 2012, and the player had been linked with a summer switch to rivals Man Utd.

Arsene Wenger believes that major Arsenal share holder Stan Kroenke's position at the club does not effect his role as manager of the Gunners. Stan Kroenke yesterday pushed his shareholding to 29.7percent after landing 427 more shares in the club.

American billionaire Stan Kroenke has purchased shares worth £42.5m from the directory Danny Fiszman, the Arsenal Supporters Trust(AST) has welcomed the investment.

Arsenal have reportedly told American tycoon Stan Kroenke that he could well be ready to step up to the plate as the new primary shareholder in the football club. Kroenke has built new strong relationships with the existing board of directors at the Emirates.

Arsenal chairman Peter Hill-Wood has admitted that he has held positive talks with 12 percent Gunners shareholder, American Stan Kroenke. Arsenal are desperate to stave off the interest of Red and White Holdings - headed by Alisher Usmanov - who could mount a takeover of the club.

David Dein has declared that Arsenal need a billionaire investor if they are to keep the pace with their rivals. Dein's comments come at a time when Arsenal's season appears to have crumbled as Liverpool knocked the Gunners out of the Champions League and seemingly ended their Premiership hopes.