Petit issues Arsenal warning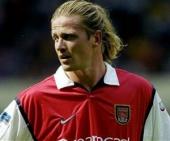 Former Arsenal midfielder Emmauel Petit has warned that the club will sink to further depths if

Arsene Wenger

continues to sell his best players.
Petit was one of the key figures in the Gunners midfield during his time at the club and even won the double under Wenger.

He is of the belief that the defeat to Birmingham in the Carling Cup final is directly responsible for the team's poor showing in the Premier League. He also believes that letting go of star players Cesc Fabregas and Samir Nasri was a 'disaster'.

"The defeat in the final of the League Cup has been devastating," he told L'Equipe

"The club is in a transitional phase. It is also at a crossroads, sporting and economically. If he continues to sell its best players, it's dead.

"I can understand that Arsenal is in line with an economic logic, but to drop Fabregas and Nasri is a disaster, especially for the players who remain.

"Arsenal can not afford to lose such elements and show that it has no further ambition.

"Previously, the players left at the end of their career: Dennis Bergkamp, Thierry Henry, Patrick Vieira, Robert Pires and myself [all left]. Today Fabregas and Nasri left when they were at the top. It's very disturbing."

"They most lack mind and character," Petit continued. "I do not understand why Arsene did not take Scott Parker or Joey Barton.

"And the defence, playing at a high level with this defence for several seasons now is impossible.

"There was, however, players who could strengthen it, like Gary Cahill, but Arsene did not go looking for them either, because of money, no doubt.

"At full strength, Arsenal still has a great team but it is never complete with all these injuries.

"I keep faith in Arsene. I hope the players think like me. The worst thing for Arsenal would be for Wenger to leave."