Zlatan Ibrahimovic: - The Ageless Wonder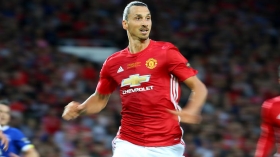 Arrogant, ruthless and outrageous; are just some of the qualities that come to mind, when one first thinks of

Zlatan Ibrahimovic

.
Moreover, none of these opinions are without reason. The Manchester United forward has never hidden his admiration for his own abilities and the fact that he thinks he's the best in the world at what he does. Think back to how he claimed that World Cup without him wouldn't be worth watching, after Sweden failed to qualify for the 2014 edition in Brazil.

However, a closer look at Zlatan's footballing credentials shows you why the big Swede's unapologetic self- belief is perhaps justified.

The Final Frontier:-

Although Ibrahimovic had enhanced his reputation as a proven goal scorer with his performances in Netherlands, Italy, Spain and France; many considered the Premier League to be the true test of his credentials, partly because of the competitiveness of the league and also because of the relentless nature of the English style of play.

Further, given that Zlatan was coming into the Premier League at the age of 35, it was always going to be interesting to see whether or not, the former Sweden skipper would manage to have a similar impact in England, as he did elsewhere in Europe.  

Therefore, Zlatan's move to the Premier League with Manchester United, at the beginning of the ongoing season was considered by many to be not only the final, but also the most challenging frontier of an otherwise stellar career. Further, given that Zlatan had bid a disappointing farewell to his national side at Euro 2016, he probably still had a point to prove to himself, more than anyone else.

The United side that Ibrahimovic joined, however, was a pale shadow of his former self. Following three turbulent years since the retirement of Sir Alex Ferguson, Jose Mourinho was tasked with the responsibility of reclaiming United's lost glory. And it was in a bid to achieve the same that the self- proclaimed 'Special One' turned to his trusted partner in crime from their time together at Inter Milan.

The Impact:-

Zlatan did not let his manager down as he had an immediate impact by scoring the winner against Leicester City on his competitive debut for the club, thus guiding United to their first title of the season, the Community Shield.

In a way, Zlatan's debut was a sign of things to come from Manchester United's new no.9. He managed to rack up four goals in next to no time as United briefly topped the table during the opening weeks of the Premier League season.

A Major Dent:-

However, just when United were looking to consolidate their position at the top, an erratic patch of form from Zlatan as well as United, which included only two wins in 11 games all but ended United's title challenge for the season. This period was highlighted by Zlatan misfiring in front of goal and United failing to convert dominant performances into favorable results.

This was never more the case than when United conceded a late equalizer to Arsenal at Old Trafford in November. Further, Zlatan's presence and reputation as a match winner was missed more than ever in this game, as he served a one match suspension.

Parity is Restored:-

Though one will never know what went on through Zlatan's mind as he watched his teammates drop points against the Gunners, the fact that, in a way that, result perhaps acted as a catalyst for Zlatan can't be denied.

Ever since his return from suspension, Zlatan has certainly looked more like his former self and has definitely rediscovered his way to goal and has 6 goals and 2 assists in the Premier League, to show for his efforts.

More importantly, United finally seem to have found a way to convert good performances into results and Zlatan's contribution to the process has been absolutely vital. Having won their last four Premier League encounters on the bounce, things are certainly looking up for the Red Devils as they head into the New Year.

More Than a Goal Machine:-

The fact that Ibrahimovic is a proven goal scorer has been plain to see ever since the first time he set foot on a football pitch and one only has to look at his overall career record for further evidence.

However, what has been most impressive about the big Swede this season, so far, has been his ability to create goal scoring opportunities for his teammates, when he's not scoring them himself. A look at Zlatan's performance in United's last league gamer against Sunderland provides us a great example of this phenomenon.

Though Ibrahimovic started as the outright striker for United, he kept drifting down the flanks and creating space for the likes of Juan Mata, Henrikh Mkhitaryan and Paul Pogba to exploit. And in a way, this is essentially what led to two of United's three goals, first for Daley Blind and then for Mkhitaryan, apart from the one that Ibrahimovic himself scored.

Zlatan's contribution to United's performance against Sunderland fittingly deemed him to be the Man of the Match, on a day when most of the Manchester United players themselves put in a decent shift.

The Road Ahead:-

Ibrahimovic's success at Manchester United so far, is now testament to the fact that there isn't a league in which he hasn't proven his worth. Moreover, his recent performances may just earn him a stay at United beyond his current contract; and there also have been talks of him being offered a coaching role at United once his playing days are behind him. However, all that is in the future.

As of now, by his own admission, Ibrahimovic is like fine wine, which gets better with age. Or maybe, the concept of age is just something that applies to ordinary individuals and though Zlatan maybe many things, ordinary is certainly not one of them.