The Rejuvenation of Judas on Resurrection Day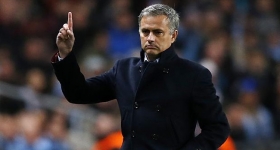 Jose Mourinho

has masterminded plenty of wins in big games down the years, but he usually is known to get the job done with a radically defensive approach and by setting up with a team that, first and foremost, is very difficult to break down.
On Sunday, that so called model was flipped on its head. He put forth a team with two up front and wing backs who were high up the pitch. They were on the front foot and went at Chelsea right from the start.

Quite on the contrary to what was expected from the starting lineup, a final result of 2-0 in favor of the Red Devils meant that United produced a brilliant attacking display as well as a convincing defensive one that was tactically aware of the different threats that Chelsea posed.

First look at the team sheets would have suggested a typical Mourinho defensive display especially with the absence of some big names like Ibrahimovic and Mkhitaryan. Chelsea had to make do with Kurt Zouma in place of Marcos Alonso and Begovic in goal.

Mourinho asked Ander Herrera to man-mark Eden Hazard and he did it brilliantly, but United's game-plan went much further than that.

They did not give Chelsea an inch of space anywhere on the pitch and did not allow them to get into any type of rhythm.It started from the front, where Marcus Rashford and Jesse Lingard never stopped pestering the Blues defence, and Paul Pogba, Marouane Fellaini and Herrera seemed to win every meaningful battle in midfield.

United started the game so well and at such a high tempo that it seemed to take the wind out of Chelsea's sails.United just did not allow that to happen, because they were constantly in Chelsea's faces.

Stopping Hazard was only part of that. Yes, he slipped through the net a couple of times when United tried to man-mark him when they lost in the FA Cup at Stamford Bridge in March. This time he did not get any joy at all, but Chelsea's problems at Old Trafford this time were not just because Herrera did a much better job than Phil Jones managed in that match.

In my eyes, Herrera's performance was so good it made him a Mourinho player for life.

Mourinho now knows that if he needs someone to do a man-marking job - something ugly - he has the type of player who is clever and disciplined enough, and also has the physicality to do it.

The United manager will also have a bit more trust in the ability of young players like Rashford and Lingard after seeing them perform so well in such a big game.

Their pace gave something United different up front compared to when Zlatan Ibrahimovic leads the line.

Ibrahimovic has been brilliant this season and I still think he will be the man Mourinho looks to for the second leg of their Europa League quarter-final against Anderlecht on Thursday.

But having to choose between him and Rashford, who looked so sharp, is a good problem for Mourinho to have at such a busy time of the season.

Despite an unbeaten streak and beating Spurs at home, a result of this kind was very much necessary especially after the frustrating draws against not so tough opponents. The element of surprise definitely architected the downfall of Conte and the blues. Beating the side sitting pretty at the top of the table and playing attacking football with a side that was expected to park speaks volumes about what this wonderful combination of Mourinho and Manchester United holds in the days to come.