Preview: crucial Manchester derby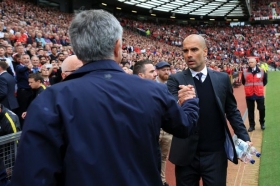 The Manchester derby is the first thing that City and United fans alike check the fixture list for when they are announced during pre-season. On Thursday night, the old rivals face each other at The Etihad, with much more than local bragging rights at stake.


The two teams come into this one side by side in the Premier League table, with both desperate to claim on of the four Champions League spots when the season concludes. It is currently Manchester City who sit fourth, but a victory for United would see them overtake their rivals.

This is the sort of match that should be deciding who wins the league, not finishes fourth, and next season that could very well be the case. Both teams are aspiring for a higher finish next season, and qualification for the Champions League will help to attract the players who will help them achieve that success.

Manchester City stars David Silva and Sergio Aguero picked up injuries in the FA Cup defeat to Arsenal at the weekend, with Aguero expected to return to the team, which cannot be said for Silva. Gabriel Jesus is also in contention for selection, although manager Pep Guardiola accepts that his condition is "not optimal."

Manchester United have injury problems of their own, with Paul Pogba joining Phil Jones and Chris Smalling on the treatment table, whilst Ander Herrera looks set to return from an ankle injury.

This fixture has all the makings of a classic and it may take something special to secure the bragging rights for one half of the city, whilst also bring Champions League football next season.