Manchester United must do this if they are to beat Tottenham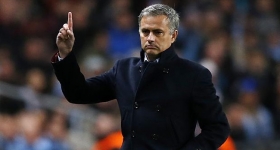 On Sunday Manchester United face a Tottenham side that are still reeling from a shock 1-0 defeat to West Ham last Friday.


Jose Mourinho's side are also looking to bounce back from defeat too, with their 2-0 loss to Arsenal one that dealt their hopes of claiming a Champions League place from league positioning a huge blow.

While Manchester United are probably focussing more on their chances of winning the Europa League, with two games standing between themselves and a Champions League spot, they will be desperate to bounce back against Tottenham.

If they are to beat Spurs, then they should employ a very similar high pressing approach to the game as West Ham did last week.

The Hammers looked to close down the man on the ball and all of his available options, knowing that Tottenham are at their most dangerous when they are given space to move the ball. The likes of Christian Eriksen and Dele Alli struggled to have any impact against West Ham as they were starved of possession, meaning the clever passes into Harry Kane were kept to a minimum throughout the game.

The pace of Marcus Rashford will be important for closing down Hugo Lloris, Toby Alderweireld and Jan Vertonghen, while Ander Herrera and Paul Pogba will need to be moving constantly to stop Alli and Eriksen.

Tottenham are a superbly gifted team and one that have swept most opposition to one side this season, but Mourinho can oversee another impressive victory if he heeds the lessons West Ham's win over Tottenham taught.