Manchester United step up interest in Eric Dier amidst reports on wage dispute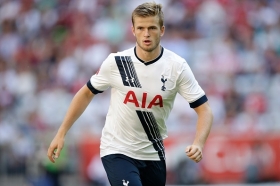 Tottenham will not be increasing

Eric Dier

's wages, prompting Manchester United to step up their interest in the midfielder
Dier, 23, currently earns £50,000 a week at Tottenham, where they have a strict policy on wages. Spurs are infamous for paying their star players considerably less than Premier League rivals.

Harry Kane earns £100,000 a week while Son Heung-Min earns £85,000 a week. Manchester United pay Zlatan Ibrahimovic a weekly wage of over £300,000 while Eden Hazard at Chelsea earns around £200,000-a-week. 

The Daily Mail reported that Daniel Levy has warned Eric Dier that he would not get a salary bump of any kind, despite handing improved contracts to Harry Kane, Jan Vertonghen and Hugo Lloris in December. 

At only 23, Dier has already become a regular for Tottenham, playing almost 100 games for them over the course of the past two seasons. He has also became a staple in the England national team midfield, earning 17 caps and scoring two goals.

Dier would have hoped that his performances this season and being a key factor in Tottenham's late surge for the title would earn him a wage increase, but Daniel Levy is opposed to that. This could allow Manchester United to step in with an extravagant wage package that could tempt Dier away from White Hart Lane. 

An offer of £40 million is already being prepared by Ed Woodward and Jose Mourinho for Dier, although Tottenham is confident that Dier will stay and try to win the title next season. However, a huge wage package and the prospect of playing alongside Paul Pogba, Zlatan Ibrahimovic, and the incoming Antoine Griezmann might tempt Dier to make the switch to United.