The future's bright, the future's Ronaldo…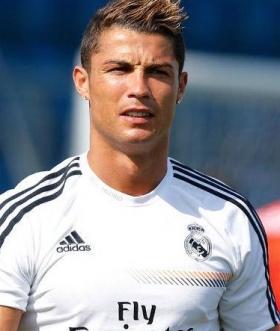 Well, that's what Real Madrid president

Florentino Perez

believes!!


There's been much speculation over recent times that 'Cristiano Ronaldo dos Santos Aveiro' aka Ronaldo has had enough of life in Madrid and wants out, even being linked with a return to Man Utd. However, Florentino Perez insists that the Brazilian is angry but he expects him to stay at the 'Bernabéu'.




It's been a strange few weeks for Ronaldo. The Portuguese captain has been accused of hiding some of his income relating to his image rights payments and faces 4 counts of tax fraud from Madrid's regional state prosecutor who has alleged that the star used an off-shore company to hide a portion of his income from the tax office. The figure…. £14.7m in tax




However, president Florentino Perez still sees Ronaldo as Madrid's key player, evident in his contract that has 4 years remaining on it, saying to esRadio's show 'El Primer Palo',




"He has a contract with Real Madrid and, when he stops playing at the Confederations Cup, we will talk. "He's angry, that's for sure, because he is an honest person who fulfils his obligations. "I have not talked to him but we are delighted that he is in Madrid. I think he will continue in Madrid."




Perez was quizzed further about the Ronaldo tax situation and said:

"We all have to fulfil our fiscal obligations. Madrid is not responsible for the players' declarations, but there has never been a concealment. Cristiano does not have to deny anything he has not said."




Real Madrid will be secretly hoping that the Ronaldo tax saga turns out to be different to rival Lionel Messi's as last year the Barcelona star and his father were found guilty of defrauding tax authorities themselves, this time to the tune of 4.1m euros. This amount was income they made from the Argentinian's image rights and they were given 21-month jail sentences, although with it being their 1st offence, neither Messi is expected to serve prison time.




Ronaldo's management company Gestifute have said that the company, Tollin, established during his time in England when playing for the 'Red Devils' has acted in accordance with British and Spanish tax laws. They have said that there is no tax evasion scheme, and there has never been any hiding nor any intention to hide anything. Time will tell I guess, but what does it mean for the Brazilian now?




Well, this season, the Portuguese forward has been the subject of whistles from his home fans (at numerous points), could that be something that furthers enhances his views on whether now is a good time to go? I mean, it's fair to say, he doesn't deserve wolf whistles, does he? Would you be impressed if you were in his shoes? Of cause not, you'd be eager for that to stop! He has commented on this and spoke before Madrid CL win over Juventus saying ""I spent a lot of years at Manchester United and [home fans booing] never happened to me". 285 goals in 265 games for Madrid is quite frankly, an 'astronomical' statistic and bearing that in mind, he really doesn't deserve any negative press from supporters, does he?




Ronaldo's hearing will be in July but he believes he has been treated so badly that he was considering leaving Spain. He has still not received any communication from the Spanish tax authorities over his testimony on July 31st and is rumoured to have told President Perez that he wants a move away from the country before next season. Who would want him? Who could afford him?




Well, there's always rumours linking him with Jose's Man Utd, however there is also interest from China and America. But with China's mid-season transfer window now being open, could this be the time that we see his last big move? It's gotta be doubtful, especially now that the Chinese clubs must pay an additional 100 percent tax on signings. This would make it even more unrealistic, as it would take an unbelievable amount to get Real to sell him and for clubs in the China's Super League to be able to afford him. Not only that, but with Ronaldo being just 32, and saying in the past that he believed he could play until he was 41, now may not be the time for him to go and play for clubs in countries such as China or the United States. Maybe a move to Man Utd could be on?




President Perez isn't expecting him to leave Real Madrid, but time will tell, and maybe, just maybe Jose may now think…




The future's bright, the future's Ronaldo.