Neymar could join Manchester United if Barcelona falter again next season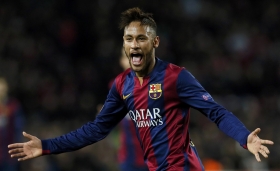 Neymar was reportedly extremely unhappy with Barcelona after a barren campaign and will leave the Camp Nou should the same thing happen next season.
By Barcelona's high standards, this past season was a failure. The Catalan giants lost the La Liga crown to Real Madrid and also exited the Champions League after being thoroughly outclassed by eventual runners-up Juventus.

Luis Enrique has since left the club and Barcelona have appointed Ernesto Valverde as the new manager of the team. Valverde is determined to bring Barcelona back to the standards of 2009-2011 where they dominated Europe and have already sanctioned the sales of many players he deems unfit for the squad.

However, according to Spanish news outlet Don Balon, Neymar has issued an ultimatum to Valverde - if his project does not kick off and Barcelona fail to get major silverware for the second successive season, he will leave.

The report stated that Neymar and his team of representatives are determined for him to be the best player in the world and to win the Ballon d'Or in the near future. This past season frustrated him and he felt he was not able to move closer to his aim and as such will only give Barcelona one more chance next season. 

The club that has been linked to Neymar is Manchester United. Neymar is said to be open to the prospect of joining the Red Devils as he wants to play under Jose Mourinho.  

Barcelona fans will surely react angrily to this news which shows his lack of loyalty to the club. However, with the recent dominance of Real Madrid and the talent pool they have in their youth ranks, it might now be Los Blancos turn to dominate Spanish and European football. As such, a move away from La Liga during this period might be beneficial for Neymar in his personal progress and ambitions. Whether he can adapt to the more physical aspect of the Premier League remains to be seen.