De Boer confident of Benteke stay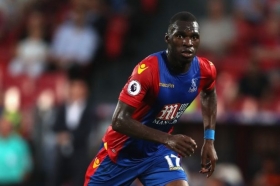 Christian Benteke

announced his arrival in the Premier League by becoming the focal point of the Aston Villa attack. After an unsuccessful spell at Liverpool, the big Belgian needed a new opportunity to show his quality. Crystal Palace gave him that chance by making him their biggest ever signing and The Eagles are hoping to keep hold of him this summer.


After rediscovering his form and contributing fifteen Premier League goals in his debut Crystal Palace season, Benteke has once again found himself being linked with other clubs.

The 26-year-old is being suggested as an alternative to fellow Belgium international Romelu Lukaku, leading Everton, who sold him, and Chelsea, who missed out on him, to consider a move for the Eagles' striker.

Since arriving, Frank De Boer has been planning how he will assure that Crystal Palace will perform better in the Premier League during the coming season. Christian Benteke is sure to be a key part of those plans and De Boer will be desperate to keep hold of him.

When questioned about the possibility of Benteke leaving this summer amid interest from Chelsea and Everton, The Evening Standard reports that the new Crystal Palace manager replied "He's happy here and we really want him to stay. He made a great impact last season, especially in the second half of the season, and he is crucial to us and we don't want to sell him."

Both Chelsea and Everton have been linked with other strikers recently, but if either decide to make Benteke their main target ahead of the new season, they might just test the resolve of Crystal Palace.