Jose tells Pogba who's boss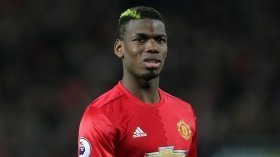 When you make a high profile, world record move to a club like Manchester United, every performance is going to be scrutinised. After a difficult first season,

Paul Pogba

appeared to have settled in at Old Trafford and showed signs of his undoubted ability. However, there have been several signs of late that all is not well for the France international.


The Red Devils have not been in their best form lately and reports today suggest that Pogba is less than happy with how much of that is being attributed to his individual performances.

The Sun states that 24-year-old Pogba has demanded a meeting with United manager, Jose Mourinho to voice his displeasure to the Portuguese boss. On the French midfielder's agenda of complaints was said to be the position in which he has been played recently, the squad's overall disappointment with current tactics, the use of Pogba as a 'scapegoat' for a dip in form and also his annoyance at being singled out in front of the entire team during training sessions.

It is clear that Jose Mourinho has not been fully convinced with the performance of one of his key players over the last few weeks, with Pogba being withdrawn early from games or even having to settle for a place in the bench.

Mourinho has a reputation for being ruthless and having faith in his own opinions and methods, and today's reports claim that the meeting ended in a way that was true to those attributes.

To conclude the heated discussion, it is claimed that Jose Mourinho told Paul Pogba to leave his office and look at the "manager" sign on the door on his way out, just to remind him who exactly has the power at Old Trafford.

Whilst the situation at this point isn't putting Pogba's future at the club under too much doubt, the player's agent has been looking for alternative clubs around Europe, just in case the issue escalates any further.