Tottenham prepare to bid for German star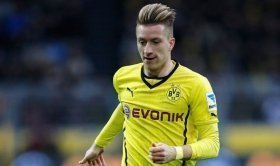 Tottenham Hotspur are preparing to strengthen their squad this summer as they aim to make the next step up in the Premier League and take the trophy to their new stadium. Whilst keeping their current crop of star players is crucial, reports today suggest that German star

Marco Reus

is also being targeted by

Mauricio Pochettino

's side. 
Reus, who scored during Borussia Dortmund's 1-1 with Augsburg last night, will enter the final year of his contract with the Bundesliga club at the end of the season and the 28-year-old has shown some hesitation over signing a new deal. 

It is said that Reus would like some assurances over the club's intentions for the summer transfer window and if he does not believe that his current employers are being ambitious enough, he may look elsewhere. 

As it often goes during a World Cup year, Tottenham will be hoping to reach an agreement for Reus before the tournament gets underway before interest in the player, and the asking price increases if he puts in some strong performances on the big stage. 

Whilst Spurs are being strongly linked with Reus, they are not the only Premier League side who are reported to be monitoring his situation. Liverpool are also said to be interested in the attacker, who of course have former Dortmund manager Jurgen Klopp in charge. 

Tottenham and Liverpool are both still competing in the Champions League and looking to secure a top four finish in the Premier League. Whilst immediate success in the ambition for both clubs, how they end the season could be the difference between securing and missing out on signings in the summer.