Mario Balotelli to return to the Premier League?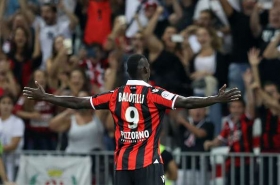 Remember seeing

Mario Balotelli

in the Premier League? Who could forget? Under the management of

Roberto Mancini

, the

Mario Balotelli

show rolled into Manchester in 2010, which often shadowed the signs of his huge potential. Although things didn't quite work out for the Italian during his time with Liverpool, he has now found a way of turning that potential into a strong goalscoring record and he could make a Premier League return next season, for free.


Balotelli, now 27-years-old, has become a regular source of goals in Ligue 1 during his time with Nice, including twenty goals this season. His contract with the French club comes to an end this summer, meaning that he could be available on a free transfer.

Ever the salesman, super agent Mino Raiola, who is also agent to the likes of Paul Pogba and Zlatan Ibrahimovic, has been talking his client up and explaining what an opportunity his availability is to Premier League clubs.

The Mirror reports Raiola saying that he has been in discussions with clubs in England, as well as Serie A teams including Juventus, Roma, Napoli and Inter.

After struggling at times during his Premier League past, Raiola has looked to reassure teams in England that he would be a good investment, saying "Mario is ready to return, he has matured into one of the top 10 strikers in the world."

Balotelli's agent ended his sales pitch by valuing the player at around £90 million, adding that signing him on a free would be an absolute bargain. Whether any Premier League teams will take a risk on Balotelli and give him the opportunity to prove his improvement, we will have to wait and see.