3 Players Real Madrid could sign in January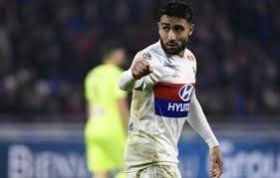 It is been four matches since Real Madrid has scored and they desperately need goals to overturn their fate in domestic as well as European competitions.
Madrid's injury list is showing no signs of stopping as players are being added every week, with the latest additions being Gareth Bale (Again).

Marcelo is already on the sidelines with injury and is also going to miss the Brazil national team's matches this international break. Isco has just recovered from the injury and still getting in stride with the team and played as a substitute against Alaves this past weekend.

With Bale, Benzema & Co. misfiring, it looks like Julen Lopetegui will need some inforcements from the market in the January transfer window (only if he is at the helm till January). The players would be :

Nabil Fekir - France - Olympique Lyon

This guy was up there on the wishlist of Jurgen Klopp all summer, but ultimately the deal did not go through. Talking about Fekir, his playing style is much like that of Mahrez. Likes to work from the right wing and slowly play in the no.10 position.

He is fast, agile and has good decision making prowess compared to the players in Real Madrid. It is quite obvious that Klopp would go again for him in the summer since he has not yet replaced the void left by Coutinho after his sensational move to Camp Nou.

Nevertheless, hiring his services won't be tough for Madrid. Let's see where he ends up. Being a Red or White.

Christian Pulisic - United States of America - BVB Dortmund

Now many might argue that Isco Alarcon is lot better than Pulisic. I agree with that, but still the Dortmund maestro has taken it to next level. He is equally as talented as Isco but he has an advantage over Isco considering the blistering pace he has.

He can play on either wings, he can play the no.10 role as well as play the role of second striker. A player like Pulisic is what Los Blancos need right now.

Emil Forsberg - Sweden - RB Leipzig

This guy is very underrated. He is his nations hope. He currently plays for RB Leipzig in the Bundesliga and he is the only reason Timo Werner's stock has risen up in the last 2 years. Forsberg is the very reason for RB Leipzig's success in the last 2 years. He dons the no.10 jersey for the Red Whites and also plays the role of playmaker in the team.