The Fan's Consensus - Klopp and Mourinho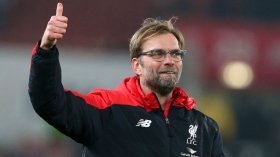 It's interesting how fan opinion can be so unanimous in certain areas, yet directly oppositional to what the football club itself is doing, or believes is best. Take Liverpool for example: and the fans clamouring that their club absolutely needed to sign a left back in the summer, and moreover, their utter dismay when Jurgen Klopp decided that Jordan Henderson was the answer to his defensive midfield woes. In this case, Klopp proved correct with his decisions. 

On the other hand, look at Manchester United, where fans were certain that Marouane Fellaini and Wayne Rooney were stagnating their midfield and hence attacking play, and that those two needed to be dropped as quickly as possible. In this case, the fan consensus eventually coincided with Jose Mourinho's plans, to reap excellent rewards. 

At the outset I want to make it clear that I've very much in both camps at the start of the season. As a Liverpool fan, I wanted Klopp to bring in a left back and a defensive midfielder, and was very much angry and confused when James Milner and Jordan Henderson were asked to fill the gaps. And at the same time, whilst I'm not a United fan, I very much agreed that Fellaini and Rooney needed to be dropped, Rashford needed to play, etc.

I also want to state that whilst I want to compare a scenario where the fans wished were bowed to and one where they were not, I do not want to say that one case is better than the other or that anyone was more correct. I certainly don't want to suggest that one set of fans is more knowledgeable than the other. Rather, I find it to be an interesting comparison between Klopp and Mourinho, where both have come up trumps, in recent fixtures against Hull and Leicester respectively.

Beginning with Liverpool then, where Jurgen Klopp has made some unpopular decisions, the majority of which have already been at least partially vilified. Klopp's first and most baffling decision was not to sign a left back in the summer, despite a staggering 93 percent of Liverpool fans in a BBC poll stating that they were unhappy with the left back situation. After Moreno's inept performance against Arsenal, James Milner was slotted in there, and fans were hitting their heads against a brick wall. But Milner has been phenomenal in that position, and vital to Liverpool's style of play. Moreover, with three penalties to his name this season, he is contributing to Liverpool's attack as much as their defence. Against Hull he was terrific, influential all the way down the flank, and slotting Milner at left back appears a master stroke from Klopp.

Klopp's second big decision was Jordan Henderson playing defensive midfield in the absence of Emre Can. This of course, had Liverpool fans up in arms. Even the minority that actually like Henderson (a minority I am in for the record) felt that his best position was slightly further forward, and felt that he could not cope as a defensive midfield player. And yet Henderson grew into the role extremely quickly and his defensive cover, pressing play and complete control of the midfield have been a revelation, culminating in dazzling performances against Chelsea and Hull.

Of course, there have been other decisions. Dropping Daniel Sturridge in favour of Firmino. Playing five central attacking midfielders. Bringing in Wijnaldum to play him alongside Lallana in central midfield. The whole business with Sakho. But one by one, each of Klopp's decisions have been, so far at least, largely justified. Sakho's little rant on Saturday morning, 12 hours before a huge game, merely highlighted his own lack of professionality, and the reason that Klopp has problems with him in the first place, rather than exposing Klopp as some kind of liar.

Of course, some of these decisions are still ones that the fans question and I can certainly sympathise with those who would bring Sturridge into the side from the start, or play Coutinho in central midfield but by and large, everything Klopp has done has worked.

The simple truth is that Klopp asked the fans to trust him and, albeit reluctantly for a lot of them, they have. And now Klopp is repaying that faith in some of his stranger decisions, as Milner plays out of his skin at left back, Henderson is looking more and more like Xabi Alonso every day, and Sakho's childish behaviour highlights why he is out of favour. Klopp really does know best.

Then we come to Mourinho, whose tenure at United has been slightly less happy go lucky as the last few weeks have been for Klopp. I confess that a lot of that is due to the media, who lap up everything Klopp says but are out to attack everything Mourinho says and does. Of course Mourinho doesn't help himself by reacting, but certainly the cards are stacked against him at United.

In any case, the pressure has been on after back to back league defeats to Man City and Watford, and it became clear that certain elements of Mourinho's side weren't working. The same cries came from the fans: play Rashford regularly, drop Rooney, and don't put Fellaini anywhere near the side. But whereas Klopp reassured the fans that he knew what he was doing, Mourinho did exactly what the fans wanted, and it worked.

Now I'm not suggesting that Mourinho dropped Rooney and Fellaini because the fans wanted him to, although I find it hard to believe that the angry rumblings amongst the fan base didn't make that decision easier for him. But Mourinho did drop Rooney and Fellaini for the same reasons that the fans wanted them dropped: because United had zero pace or intensity in their midfield with them playing, and that neither of them are the best player in their position that United possess.

And as we saw, the shift to 4-3-3, with a more dynamic and creative midfield, worked wonders, as United tore Leicester apart, in easily their most impressive all round performance of the season. Mourinho was in line with the fans, and it worked a dream. Despite the open hostility between certain sectors of United fans and the manager, their thinking was along the same lines, which compared to Klopp and Liverpool fans, who seemed streets apart in their thinking early on this season, but never wavered in their support of their manager, is a very stark contrast.

As I said at the outset, I don't want to suggest either Klopp's or Mourinho's approach is right or wrong, or that Liverpool fans were wrong whilst United fans were right. After all, the consensus amongst Liverpool fans about the source of United's problems was the same as United's and probably vice versa. But what I do want to highlight is this interesting contrast.

Now the reason for this contrast is, to me at least, obvious. Time. Mourinho has only been at United since the summer, and has only managed them for six league games. He hasn't had time to properly decide exactly how he wants United to play, nor time to properly implement that system. Whilst United fans have had to sit through LVG's reign, they already know what their problems are. The fact that Mourinho didn't cotton onto them immediately is not indicative of his talent as a manager. After all, certain individuals at Liverpool who were terrible under Brendan Rodgers have come into their own under Jurgen Klopp.

And that's really the point I'm trying to make. Klopp has had time at Liverpool to assess his squad properly, engage with the players and decide, determine who works and who doesn't. Clearly, when he took the job, Klopp saw talent and malleability in the squad, or he wouldn't have taken the job. And now, almost a year on, he knows his squad inside and out. He knows what will work and what won't. So when he makes a decision, he is as informed as it is possible to be, which is why he has got most of his big calls so far this season right.

Both Klopp and Mourinho are terrific managers. But whilst Mourinho is in the early stages of his management of United, he has learned that sometimes the fans do know best. And Liverpool fans on the other hand are quickly learning that the phrase: "trust Jurgen Klopp" isn't just meaningless rhetoric. This man knows what he is doing.