Southgate: England's best choice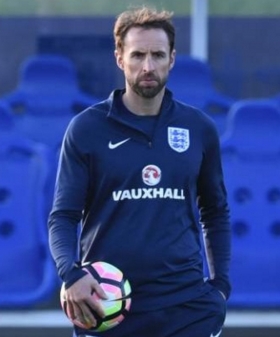 I tuned in to watch England vs Spain at Wembley last night with very low expectations. After regular disappointments in recent major tournaments, coupled with the awfully boring and meaningless European and World Cup qualifiers against minnows such as Malta and Lithuania, it is no wonder that English international football has lost touch with the majority of the nation.
What I didn't expect was, that after 48 action-packed minutes of watching our recently lacklustre nation do battle against the skilful Spaniards, England would be 2-0 up thanks to an un-saveable penalty from Adam Lallana, and a powerful header from Leicester striker Jamie Vardy. Albeit against a weakened Spanish side, England were playing very well, dominating the three time European Championship victors, and 2010 World Cup winners all over the pitch.

Of course, England being England, we'd throw away our two goal lead with a measly five minutes to go in the match. Just when fans were again being filled with optimism after watching such an encouraging 89 minute display, former Liverpool striker Iago Aspas, and Real Madrid playmaker Isco snatched an undeserved draw for Spain. Again, England fans were reminded never to get their hopes up when watching their nation, because, like many times before, they always seem to let you down.

Disappointment aside, the 2-2 draw against Spain was an extremely encouraging display from England, and was really the first time we have played well since the 3-2 win over Germany in Berlin, just before Euro 2016. My theory is that this performance, along with a few other factors, showed Gareth Southgate to be the best choice for the next permanent England manager, and here are a few reasons why.

Unbeaten Streak Continues

As England caretaker manager, Gareth Southgate still remains unbeaten, with 2 wins and 2 draws in the 4 games he has been in the dugout for. That run started with a 2-0 win over Malta at Wembley in October. Despite Malta placed at 178 in the FIFA rankings before the match, and with England probably being expected to win by more than 2 goals, it was an encouraging start for Gareth Southgate as interim manager. As they say, you can only beat what is put in front of you.

This win was followed by a disappointing 0-0 draw in Slovenia, and a more positive 3-0 win at home to arch-rivals Scotland. Despite the draw against Slovenia being considered a negative result for Southgate's men, this meant that England had gone 3 matches without conceding a goal in their World Cup qualifying group.

A better defensive record for sure, with England conceding in 3 out of their 4 games at Euro 2016 under Roy Hodgson, with 2 shipped against Iceland, a defeat that most England fans around the country still haven't forgotten.

All in all, the draw against Spain on Tuesday showed that as the matches have gone on for England under Southgate, the performances have improved, as the players are seemingly starting to adapt to his style of play.

Southgate's Experience

Compared to other managers who have been linked to the England job such as Arsene Wenger and Roberto Mancini, it seems like Gareth Southgate lacks the experience to take charge of a nation that expects so much from their football team.

However, the experience that Southgate has gained from his playing career, his stint as boss at Middlesbrough, and his time with the England Under-21's, shows that he could bring something to the job that no other candidate could; knowledge of English football, along with the drive and passion for the role that England players and fans have been craving for so long.

His stint as manager of Middlesborough from 2006 to 2009, as well as his playing career in the Premier League and with the Three Lions, gave Southgate an experience of English football and the English style of play. Southgate has experienced first hand how much the success of the national team means to players and fans, through his failures at Euro 96', the World Cup in 1998 and Euro 2000. An English manager who can relate to his players, and also the loyal fans is essential if England are going to be challenging in major tournaments any time soon.

His stint as the England Under-21's manager is probably his strongest credentials for the England job. He has been praised by many for the job he did with the nation's up and coming talent, leading them to the finals of the 2015 Under-21 European Championship, and helping to progress many players to the senior team. This experience ensures that Southgate knows the national team's setup, what FA bosses want from their managers, and more importantly, the players he could pick to fit his system, which is a priority if England want to do well in the future.

Any Better Options?

I think the main reason why Gareth Southgate is now clear favourite for the England job is that there is an obvious lack of alternative options.

Second favourite Arsene Wenger would be a good choice for the England job, and he would do well in the role, but this season Arsenal arguably have their best chance at the Premier League title for years, and there would be no way he would leave for the so called 'poisoned chalice' of football management.

The best option other than Wenger would be Bournemouth boss Eddie Howe. He is young, English, with great tactical awareness and a strong relationship with his players. With a low budget and one of the weakest sides in the league, Howe managed to guide Bournemouth to 16th in his first season in the top flight. They now sit in 13th in their second season, and continue to be a very tough team to play.

However, although Howe would seemingly be a good appointment, he is probably too young to be taking the England job at this time in his career at the age of 38. Although I believe he will make a good England manager in the future, right now the time isn't right for Eddie Howe.

The third and final favourite for the job is experienced manager Roberto Mancini, famous in these parts for guiding Manchester City to their first league win in 44 years in 2011/12. Despite Mancini's experience and success as a manager, I believe that it is crucial that the manager of the national team is actually English. The FA seemingly share the same viewpoint, with last 2 managers appointed for the job all English.

Give Him A Chance

My football theory is that Gareth Southgate would be the best man to take England forward at the moment.

His unbeaten record so far, along with his passion and experience for the role, makes him a very good candidate to take England to the World Cup in 2018.

He can build on the encouraging performance against Spain on Tuesday night and with the likes of Dele Alli, Harry Kane and Marcus Rashford, along with other young players becoming consistent figures in the senior squad, it looks like it would be a bright future for the Three Lions under Gareth Southgate.