Who could replace David de Gea?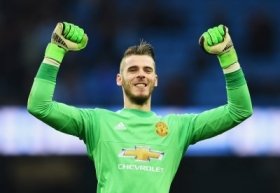 Real Madrid's lust for

David de Gea

has reached almost insatiable heights in recent months with the Manchester United goalkeeper at the top of their transfer list.
So far, the former Atletico Madrid goalkeeper has eluded their clutches, but, with Keylor Navas apparently not fitting the ability level of the Spanish club, it seems they will push Manchester United's resolve to the limit this summer.

If the goalkeeper were to leave, could his replacement be an Englishman?

The most obvious choice would be Joe Hart. The England goalkeeper has been exiled this season, finding shelter with Italian side Torino instead. Hart seems to fit the bill too, with title winning experience and an outstanding ability to win games. 

The major sticking point is likely to be the fact he is currently employed by Manchester United's fiercest rivals, Manchester City.

Jose Mourinho could also look to Sunderland's Jordan Pickford. The young goalkeeper is doomed with the Black Cats, meaning that the player is likely to want a way out to play Premier League football next season. 

His youth is a huge plus, with his high performances and superb distribution making him an ideal replacement for de Gea.

Finally, Mourinho could look to allow Tom Heaton to return to the club. Heaton left in search of regular football and has been outstanding for Burnley this term. His best performance came against Manchester United at Old Trafford, with the goalkeeper shutting out his former side in very impressive fashion.