Manchester United's bid for Andrea Belotti rejected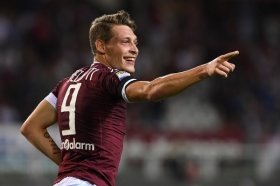 Torino received an official bid from Manchester United for their star striker but immediately rejected it as it did not meet the player's release clause value.
With the potential deal to bring Alvaro Morata to Old Trafford stalling due to complications regarding Cristiano Ronaldo's future at Real Madrid, Manchester United took the liberty of securing their plan B striker - Andre Belotti. 

A stunning bid of £61 million was submitted to Torino for the 26-year-old but was immediately turned down, according to Italian news outlet Tuttosport. Belotti's release clause in his contract is worth a whopping £87 million and the club are determined to stick to that. 

Torino also know that United are desperate for a proven goalscorer after Zlatan Ibrahimovic's departure left the club with just Marcus Rashford as an out-and-out forward. Ibrahimovic scored 28 goals for United last season but Mourinho decided against keeping the Swede after a serious knee injury, with doctors ruling him out of action for the rest of the year. 

The Italian club understands the situation United are in and are confident that they will fork out the cash for Belotti, especially if the Morata deal falls through. 

Belotti was a revelation in the Serie A last season as he scored an incredible 28 goals in 38 games and making himself one of the most highly sought-after forwards in Europe. His physical style, direct play, and speed make him a perfect fit for the English game. 

United are not expected to raise their bid for Belotti though, as they will expect Morata to arrive very soon as Ronaldo appears to be content to stay put at Real Madrid.