Santi Cazorla left out of Arsenal's Premier League squad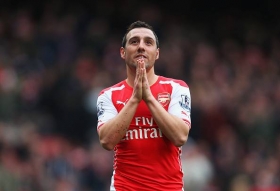 The Spanish midfielder has been omitted from Arsenal's 2017/18 Premier League squad, sparking concerns of the severity of his previous injury.
Having failed to land a single midfielder in the transfer market, Arsenal manager Arsene Wenger was dealt another blow after Spaniard Santi Cazorla was deemed unfit and left out of the club's 25-man Premier League squad.

The injury-prone midfielder suffered an Achilles injury against Ludogorets in the Champions League in October 2016. He is showing no signs of a comeback even after almost a year on the sidelines.

The 25-man squad submitted by Arsenal is until the winter transfer window, which means Carzola will be out for at least six more months. 

The 32-year-old's absence has been heavily felt by Arsenal as the team lacks leadership in midfield. Furthermore, Cazorla acts as a pivot in midfield, allowing the likes of Ramsey and Xhaka to push further up the field while maintaining a diamond formation behind the forwards. 

The lack of more decisive and direct passing is also largely due to Cazorla's absence. The Spaniard has 35 assists and 25 goals in the league, while also having a 76 percent tackling success rate.

Another midfielder in the form of Jack Wilshere has been included in the squad. The England international has been training with the reserve squad and is showing signs of form. Arsene Wenger will hope that Wilshere can aid the relatively think squad he has at the moment.