Antoine Griezmann reveals why he will reject future Arsenal move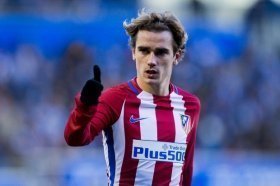 Atletico Madrid forward

Antoine Griezmann

has revealed that Arsenal were close to pursuing his services during his time at Real Sociedad - back in the summer of 2013.
In his new autobiography 'Behind The Smile', the Frenchman revealed that his former agent Eric Olhats had been in regular contact with Gunners scout Gilles Grimandi after Arsene Wenger expressed his interest in his services.

However, the north London club could not get a deal done prior to the transfer deadline, and this has not gone well with Griezmann, who has vowed to snub a future move to the Emirates.

He wrote: "I waited, I waited, and I kept waiting … when there was no news, Eric called Grimandi, who said that the manager was still interested in me [and] to keep waiting.

"Finally a few hours before the market closed, he let us know Arsenal would not make a move. I don't like to be told something and for it not to happen. 'So when Eric told me later that the London club were interested again I told him "Forget it, after the blow they gave us."

Other than Griezmann, the Gunners also had the likes of Luis Suarez and Gonzalo Higuain on their radar, but they could not negotiate a transfer agreement with their respective clubs back then.

Meanwhile, Wenger had to finally settle with Yaya Sanogo on a free transfer, and the Frenchman did pretty much nothing in the first-team prior to this summer's exit to Toulouse.

Griezmann, who is also a long-term target for Manchester United, has established himself as one of Europe's best strikers since his switch to Atletico Madrid in the summer of 2014.