Where next for Jack Grealish?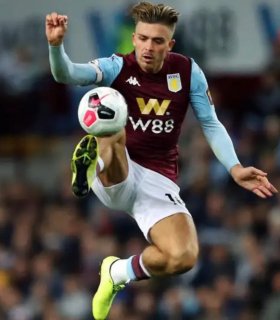 Aston Villa have struggled so far this season in the Premier League, but there has been one shining light in their squad, the impressive form of

Jack Grealish

. With numerous clubs linked with the player, we assess who might make a move for the player.


Grealish has caught the eye in his first season in the Premier League. The 24-year-old has returned an impressive 7 goals in 26 games, following on from an equally impressive season last year in the Championship, where he had helped Aston Villa return to the Premier League for the first time in over a decade. Last year Grealish scored 6 goals in 31 games, but it was his creative play and the assists that caught the eye. With the youngster opting to stay put at Villa for their maiden season back in the Premier League, Grealish knew that the opportunity to help his hometown club in an important campaign was too difficult to turn down.

Now, with a glittering career ahead of him and the opportunity of regular first-team football elsewhere, Grealish now looks set to move elsewhere.

Dean Smith, the Villa manager who helped the club back to the top flight, spoke of Grealish recently, saying of their star player: "He's not been in the Premier League because Aston Villa have been in the Championship for three years but he's proved to everyone what he can do and has been one of the top five players this season."

The positive feedback filtered through to Graeme Souness too, who recently quipped of Grealish: "Jack Grealish is another contender [for an England role] although I'd like him to have fewer touches of the ball and learn to move it more quickly. Ask any striker what he wants from his midfielders and it will be two-touch, to get the ball to them as early and economically as possible in the final third.

A number of teams including Arsenal, Chelsea and Man United have all been linked with a £60 million transfer move for the 24-year-old, but so far Villa have not received an approach from anyone for Grealish. It is understood that during the summer, several teams are likely to make an approach, with Manchester United believed to be in pole position to sign the midfielder who can operate as a striker.



Manchester United

With United currently commencing on a rebuilding programme, and with the disappointing form of Jesse Lingard, Ole Gunnar Solskjaer may opt to move for Grealish as a replacement. There is money in the bank to spend on new players, and there is also the added opportunity of possible Champions League football next season. Solskjaer has shown that he is willing to invest in young players, which may make this an easy decision for Grealish to make.

Transfer possibility: A-



Chelsea

Chelsea have already invested heavily in the attacking third since having their transfer ban lifted. A recent move for Ajax Hakim Ziyech indicates that a transfer for Grealish is incredibly unlikely, while there is still positivity in the camp regarding Christian Pulisic. Expect Chelsea to spend heavily in the transfer market on defenders in the summer, so this seems like a deal that won't be pushed through.

Transfer possibility: C



Arsenal

The Gunners are in the middle of a rebuilding programme themselves, with new manager Mikel Arteta looking for players that will operate in his desired style of football. Grealish is a wonderful passer of the ball and is quick, two important attributes required of a player from an Arteta team, which is heavily based on the style of his mentor Pep Guardiola. With uncertainty over the long-term future of Alexandre Lacazette and Aubameyang, this would make sense for Arsenal to sign in Grealish. That being said, finances are short having spent heavily on Nicolas Pepe, so players would likely have to leave for Grealish to move to the Emirates Stadium.

Transfer possibility: A



Tottenham

Spurs are famous for signing young, British talent but have a wealth of attacking talent, and thus a move for Grealish is unlikely. It is also understood that Grealish does not want to move to Tottenham, and there are also concerns over Spurs' financial situation at the moment, having to pay off the debt incurred with a new stadium.

Transfer possibility: D



Elsewhere

A move abroad for Grealish also appears unlikely. The youngster has indicated a desire to stay in the Premier League and to represent England at full international level, and he is able to do this if he can prove himself in England. Unlike Jadon Sancho, who felt that he needed to move abroad to be given a chance, Grealish has already shown he can play at the highest level in England.

Transfer possibility: C



Grealish will have no shortage of suitors this summer and whatever happens to Villa's top flight status, he is likely to be the topic of much transfer speculation over the coming months.