Liverpool - Title contenders, or big pretenders?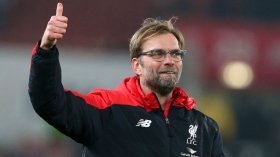 Liverpool are a club that are on the up. Currently stood at 3rd in the table, level on points with leaders Manchester City and second place Arsenal, they have given supporters optimism of a first league title since 1990.
They have torn the league to shreds with a mixture of their ruthless pressing and their fantastic ability in the final third. Can they however keep this up and finally lay hands on the trophy that the players and supporters alike are so desperate to win?

In the season that was described as "the year of the managers", with world class managers such as Pep Guardiola, Antonio Conte and Jose Mourinho all being appointed by Premier league sides, it is a team being led by a manager they already had that find their selves battling for the title. Jürgen Klopp might only have joined in October 2015, but the effect he has had on the Merseyside club has been almost instantaneous. After replacing the struggling Brendan Rodgers, who he himself had led Liverpool to an unlikely title challenge just 2 seasons before, Klopp impressed England with not only his charisma but the high pressing tactics that led to him earning plaudits with his successful Dortmund team. Klopp's first season in charge with the reds was bittersweet. Although he lead Liverpool to two cup finals, the league cup and Europa league, Liverpool came out second best on both occasions losing to Manchester City and Seville respectively.

Klopp also showed his ability in the transfer window, signing a number of players that have proven to be great successes. Strong, commanding centre back Joel Matip joined on a free from Schalke, with Estonian centre back Ragnar Klavan also coming in from Germany. Liverpool's goalkeeping woes were also addressed, with Mainz's 23 year old Loris Karius joining. Big money was also spent. Spending over £50 million combined on Southampton's Sadio Mane and Newcastle's Georginio Wijnaldum was criticized by pundits, however both have proved to be worth the money and have started the season in fantastic form. Players have also been transformed. Adam Lallana was the sort of player that many Liverpool fans thought might depart Anfield in the summer. Klopp however stuck with him and the 28 year old attacking midfielder has repaid the German's faith with 3 goals and 3 assists in Liverpool's opening 9 games.

Out of all the positives for Liverpool this season, it is their attack that has impressed the most. It is largely because of the attacking prowess of Mane, Firmino, Coutinho and Lallana that Liverpool find themselves where they are in the table. Liverpool's "fantastic four" have started the season in fantastic form bagging 15 league goals between them already. Liverpool's main ability is to put the ball in the back of the net, only failing to score in 2 games. These games however were against Man United ,who set up for a 0-0 draw and never looked like scoring themselves, and Burnley, a match that Liverpool dominated having 26 shots to Burnley's 3.  It is because of the large amount of goals that Liverpool are seen as early favourites for the league. Having already secured some big wins against Hull and Leicester the goal scoring form looks set to continue.

The last time Liverpool challenged for the title was as recent as 2013 when a Suarez inspired Liverpool looked to have wrapped the league up, only for a cruel slip by club icon Steven Gerrard that meant they finished second at expense of Manchester City. However if Liverpool's defence had played as well as their attack that year then Liverpool would have definitely won the league title. This year is a similar story. Liverpool are going for the: we'll score more than you approach, which so far has been working. However Liverpool cannot continue to approach matches with this mentality. Their shaky defence will eventually cost them valuable points, which over the course of the season will begin to add up. Signing a good centre back in January however, could mean that this season is season that Liverpool fans will never forget.