Dropping Simon Mignolet has revitalized the Belgian keeper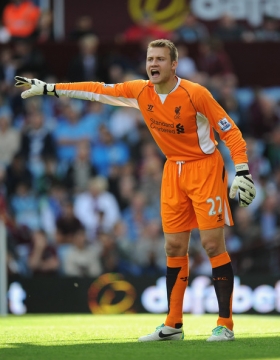 Liverpool's goalkeeping situation has been under constant scrutiny this season.

Simon Mignolet

was in goal until Liverpool's win over Chelsea in mid-September.
Then new keeper Loris Karius was given a run in the side until he fell out of favour three months later, after high profile errors against West Ham and Bournemouth.



But since his return to the side against Middlesbrough, Mignolet has done very little wrong: indeed he's produced two or three excellent performances. And as such, Mignolet has to be commended for his serious uptake in form over the last few weeks. It's been just over a month since Mignolet returned to the side. In that period, he has played in six Premier League games for Liverpool, keeping three clean sheets and conceding just four times, with two of those goals penalty kicks.

 

I confess that I am amongst Mignolet's detractors. I was very glad to see Liverpool sign a new number one in the summer, and my scepticism of Mignolet continued this season as he got off to an appalling start, as Liverpool conceded six goals in their opening three games and Mignolet himself was at least partially responsible for most of them.

 

However, there can be no denying that Karius was struggling to find his confidence and performance levels in the role, and his huge errors against West Ham and Bournemouth overshadowed similar errors made by Mignolet, both this season and over his entire Liverpool career.

 

Which leads of course to the Middlesbrough game where Mignolet made his return. At the time I was amongst those sceptical of Mignolet's recall. Whilst Karius had been poor in preceding fixtures, he had not, in my opinion, performed worse than the Belgian and I felt his return to the starting line-up was short sighted. However, the Belgian performed admirably in that game, although he was only tested on one or two occasions.

 

Against Everton it was a similar story as Liverpool kept their second clean sheet in a row after Mignolet's return. Mignolet was largely untroubled, but when called into action he was faultless. It was clear that the Belgian was growing in confidence.

 

And then he made a seeming return to form with an error against Stoke. Walters' header at the near post should have been saved by the Belgian, although as far as errors go it was less glaring than some he and Karius have made this season. But what impressed me about Mignolet is that far from going to pieces, he seemed to shrug off that goal and rebounded to make two big saves to keep Liverpool in the game.

 

And since then he has only improved. Another clean sheet followed against Manchester City, and although he conceded twice against Sunderland, both goals were from the penalty spot and he could do nothing about them. Moreover, once again he kept Liverpool in the game against Sunderland, with a couple of top saves to deny Watmore.

 

And then against Man United, Mignolet showed that he has managed to really recover and is seemingly in the form of his life, certainly the best run of form he's shown since joining Liverpool, with top saves to deny Ibrahimovic, Mkhitaryan and Rooney. This is the best the Belgian has looked for a while.

 

Moreover, further positives for Liverpool come in the form of Loris Karius, who is now seemingly Klopp's designated cup keeper. Although Karius had little to do in the 0-0 with Plymouth, he was forced to be in top form as Southampton caused Liverpool endless problems in their 1-0 league cup defeat to the Saints.

 

So I want to highlight three things. First of all I want to praise Mignolet's current form. I didn't think that there was any way back for him after the signing of Karius, but since his return to the team against Boro he has played as well as he has throughout his Liverpool career and he deserves a lot of praise. I and a lot of Liverpool fans are always quick to criticise players like Mignolet when they make key errors, and rightly so. But it's also right to point out when players like Mignolet, who have been under a lot of flak, return to form in a big way. A lot has been made of the stat that Claudio Bravo has conceded 14 goals from his last 22 shots on target, but for me it was notable that Mignolet has only conceded 5, which is less than David De Gea, Petr Cech and Hugo Lloris. Only Darren Randolph and Victor Valdes have better records.

 

The second thing that I want to highlight is the attitude of both goalkeepers, which has been absolutely phenomenal. Both keepers have seen the other as friendly competition and managed to maintain a good relationship, but have taken the competitive edge that the other has brought to the table and used it to improve their own game. Since being dropped, both keepers have come out and said all the right things. Mignolet in particular has put his head down and spoken positively and determinedly about getting back into the team. And it's showing now. Every time either keeper steps onto the pitch, they're playing for their position and both of them look as if they have a point to prove.

 

Which leads me to the third point, which is how well Jurgen Klopp has managed the situation. Liverpool's manager would have wanted Karius to start the season in goal, as the German was his new number one. And whilst dropping Mignolet after the Chelsea game could be considered harsh, the reaction that it has provoked from the Belgian is exactly what Klopp will have hoped that it would be. Since being dropped, Mignolet has played out of his skin to earn his place back in the team, and justified Klopp in dropping him.

And likewise, I think Klopp has handled Karius' situation brilliantly. Starting him off with a couple of less challenging fixtures, against the likes of Hull, before thrusting him into the big game against United. And when Karius began to struggle, and his confidence looked shot, Klopp took him out of the firing line, confident that he had a capable stand-in in Mignolet. Klopp has been unafraid to rotate his keepers and drop them when required, but has never lost the faith or commitment of either keeper. He's managed to pull off a tight balancing act, keeping both keepers feeling wanted at the club and keeping both of their confidence up, whilst simultaneously being ruthless when he felt that he needed to be.

 

Overall, whilst Liverpool's goalkeeper situation is still far from ideal, I feel that both Mignolet and Karius have improved rapidly in the last month or so, and that Jurgen Klopp's handling of the situation has been incredibly impressive. Hopefully that will continue as the Reds face an important month or so across three competitions, and will need both of their keepers fighting fit.