Is Manchester City's Kevin de Bruyne the next Yaya Toure?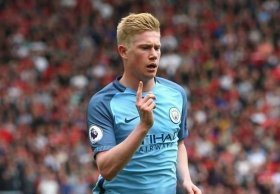 After Manchester City's 5-0 destruction of Liverpool on Saturday,

Kevin de Bruyne

has been the subject of a lot of talk and praise because of his efforts on the pitch.


De Bruyne has cemented his reputation as the 'King of the Assists' after his first two of the season. His single-rule pass that allowed Sergio Aguero to open the scoring and his perfect cross to Gabriel Jesus to double the score against The Reds aren't going to be forgotten anytime soon.

So, does it seem that the Belgian is gradually assuming the role of big game player which Yaya Toure has held for so long at City?

De Bruyne came into the spotlight after Man City's first big game of the season against Liverpool after they failed to beat them in the previous five league meetings, but there were plenty of times over the last few years when the midfielder shone.

His extraordinary goal against Barcelona at home in last season's Champions League group stage; his gorgeous goal against Paris-Saint Germain in the Champions League quarter-final the year before; and his form and amazing display in the League Cup semi-final 3-1 win over Everton back in 2016, to mention but a few of his finest moments.

Looking at his latest performances, it can be said that manager Pep Guardiola is turning him into the complete midfield player.

As well as his talent to create assists, De Bruyne has an uncanny ability to win the ball back for City when they are out of possession.

By Guardiola playing him slightly deeper, De Bruyne has become a better player by merging his ability to win back the ball and create assists at the same time – which can be rare for a player to be able to do.

Compared to this same stage last season, the Belgian has more four more tackles and recovered 13 more loose balls.

De Bruyne's strength – which he's now using to win the ball back – is the reason that few defenders are able to bully him off the ball which, as a result, is allowing him to become an all-round midfield maestro.

However, for him to be regarded as one of the world's best players – as is the case with Paul Pogba, perhaps – he needs to improve his goal return. For one of few players who can make raking one in from distance seem easy, just six and seven goals over the past two Premier League seasons is meek.

Despite his strike rate, he did hit the woodwork nine times in the league last season, which is more than any other player.

Although his assists on Saturday were extraordinary, perhaps De Bruyne's greatest gift lies in his innate capacity to find space.

He's not just one of the most creative players in the Premier League, but he is also one of the most economical. He runs when he needs to, and understands that sometimes it is easier to pick out and find spaces by standing still.

Sometimes it seems as though De Bruyne spends much of the game alone, but that is one of tactics.  By the time another player notices him, he's already moving to the ball and creating chances.

Bayern Munich forward Thomas Müller is another master of using this particular skill to find spaces and create chances.

Overall, unless you had the benefit of watching Man City on a widescreen TV on Saturday, it would have been difficult to see just how wide and high their full-backs were playing. Suddenly Guardiola spending £100 million-plus on a position once filled by the two worst players in any team made perfect sense.